Forex Trader: How to Know Exactly Where to Buy and Sell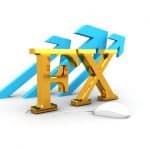 Not every Forex trader knows that floor trader pivots are critically important levels for buying and selling levels for every market. They were originally designed for futures, but they also work beautifully for stocks and Forex.
SECRET:Â There are the "secret" pivot levels that almost no one knows about. I'll reveal those to you as well as how to calculate them in today's video and article.
Enjoy the video and please leave your comments below.
PLEASE "PAY IT FORWARD" BY SHARING THIS VIDEO & ARTICLE ON FACEBOOK OR TWITTER by clicking one of the social media share buttons at the very bottom of this post. 
VIDEO TEXT:
Alright welcome to this lesson on day trading stocks. How to trade trend reversals in 3 simple steps. This actually applies also for Forex and for futures, E-minis and commodities. So really if you're trading anything that can be charted, this will pretty much work and here we go.
Floor Trader Pivots for the Forex Trader
Hey Forex Trader, this is Doctor Barry Burns with Top Dog Trading and today I'm going to show you a little trick that lot of people don't know and that is about support resistance levels that work extremely extremely well. And they are called floor trader pivots.
Now here is the little secret. Lots of people know about floor trader pivots but they are originally created for the future's market. And they work very well there. What lot of people don't understand is they also work very well for stocks and for topic today, spot Forex. So this last spot Forex people that don't understand that those floor trader pivots actually provide significant support resistance very often on the forex market.
If you have these on your charts you might get an advantage over some other traders. The same thing is that other people, for example, the guy on other side of your trade may not see. So let's go into it here. And show you exactly how this works.
WHAT ARE FLOOR TRADER PIVOTS?
First of all the floor trader pivots are just a very simple calculation based on yesterday's high, low and close. And you put them into the little mathematical formula and it spews out these support resistance levels. So here we go. Now some of these little letters are over writing each other. That's because we have clusters, many clusters, it's even better.
So here is yesterday's low, okay, that's the red. And here is yesterday's close, and here is yesterday's YH. so Y stands for yesterday. Now what interesting it's got there carried up a bit. But here is your main level. The pivot point. The central pivot so once you put those 3 things into the mathematical formula. And By the way there are free calculators online where you can go ahead and type in yesterday's high, low and close and it will give you these levels. So here's a couple of those websites:
http://www,investopedia.com/ask/answers/forex/forex-pivot-points.asp
However before you go to those I would suggest that you see if your charting platform actually has an indicator that will plot these levels for you automatically. Mine does and there's many of them who'd do. so check out your charting platform. If you're not sure call your help desk. And ask them.
HOW TO USE THEM AS A FOREX TRADER
So the point of balance, balance of power, however you want to call it. That would be your pivot point PP or sometimes they call it central pivot. Anything above that is considered bullish. Anything below that is considered bearish. Then what it does is it draws resistance lines above that. And support lines below it. So for support lines below it, we have S1 Support 1. S2 Support 2 and these numbers are just the level where the line is. And, and here is R1. So that's resistance 1. And they don't always cluster like this with the previous day's close, on high and low. But this day they did. So that's fine.
SECRET PIVOTS THAT GIVE YOU AN EDGE
Here's another little tip that lot of Forex traders don't do. Even if they do use the floor trader pivots, very few people use what I call the mid pivots. And a mid-pivot is for example there is a mid-pivot. Okay R1 and – the power or the pivot point. So all that means is very simple. It just means that between R1 and R2. I'm sorry between R1 and pivot point, actually works the upside as well. Between the R1 and R2. There's a 50% distance between there. So the halfway mark between, in this case, pivot point and R1, you have your mid pivot. Very few people use this.
But and there's a time to use and time not to. The time you don't want to use it is when the previous day was a narrow range day. The reason being that all your lines will be too close together. This is a great thing to do when the previous day was a wide range day. and there's a lot of distance between your pivot point, your R1, your R2, your S1, your S2, because the market really does go to these levels so this is a huge clue for you. By the way I did a video just on this topic so here's the URL https://youtu.be/S1Vs6lEjgWo, it's on YouTube and you can check that out for free. After this one.
Okay. So now, let's ask yourself, does this provide any meaning for the Forex trader, does it really work on spot forex? So the answer of course is yes. So here we go, we open up in here, and you know we open up right at the neutral territory.
FOLLOWING PRICE ACTION
Yesterday's close and the pivot point are both considered neutral territory. So we go down, and where'd we go? Alright, boom. We go right down to yesterday's low and S1. Then we come back up after that, and where do we come back up to? The Mid pivot. And then we come back down to that level again, but eventually we get all the way down to it, S2.
Then we bounce up to the mid pivot. Then we bounce down to S2. Then we go up to this mid pivot. And then we come back down to S1, and yesterday's low. Now this time we scream through the mid pivot, through the pivot point, through that mid pivot point and all the way up to yesterday's high and R1.
It's important to acknowledge that these levels don't always stop the market from moving up or down for the Forex trader. And of course it would be ridiculous to think that they did, because if they always did, well the market would never be able to go anywhere. Right. So support resistance is broken all the time and it's not really the topic of this video, but a couple of clues on how to determine whether the market is likely to break through support resistance is this.
HOW TO DETERMINE IF PIVOTS WILL STOP PRICE ACTION
Number 1, acceleration. Momentum. And that's what we've got here, that's a very strong move. 1,2,3,4 bars and it breaks through all of these. Just slices through them even. So that's number 1.
Number 2 is cycles. Every Forex trader needs to know how to time their entries. So I'm looking at, are we coming into cycle high, when we reach this level. It's the confluence of price and time as W De gan (6:23) used to talk about it. So for one of our cycle high here, I don't expect the market to hold that resistance. Same here, do we have a cycle high here. No. we have a cycle high here? No. Do we have one here? Yes, now, you say, 'Well Barry, how do you know that?'
GET MY FREE CYCLE INDICATOR
Okay, well that is based on my cycle indicator. So I don't have it on here. Because it's not really the topic of today's video. I just happen to think about adding this little extra tip. So what I'll do though is here is my email address (support@topdogtrading.com) and periodically I offer a webinar. It's a free webinar by the way, where I give you that cycle indicator for free. That works on most of new charting platforms out there. And I teach you the, I give you the indicator and I show you how to use it. So that you'll know when cycle highs, and when cycle lows are coming in to time it.
And again the point is to get a confluence of, what price and, so price would be like here. That's where you get your resistance levels, and then time. And where price and time come together, that's where we look for cycle highs, and cycle lows.
GET MY FREE TRADE STRATEGY TODAY!
Also, I am giving away one of my very favorite trade strategies. I call it the Rubber Brand Trade. You can get it absolutely free. It has a really high win loss ratio and is great for a Forex trader. It's a simple strategy. You can learn it in about 26 short minutes. So get that video explaining that trade strategy, by clicking on the image in the top left corner. Or if you are on a mobile device, click on the little 'I', with a circle around it, in the top right corner of this video. And once you do that, I will personally email the first video to you absolutely free.
Pay It Forward My Friend
PLEASE "PAY IT FORWARD" BY SHARING THIS VIDEO & ARTICLE ON FACEBOOK OR TWITTER by clicking one of the social media share buttons below.
Leave a comment below telling me what other day trading stocks strategies you'd like me to teach in the future.
Also I am giving away one of my favorite Forex trader strategies. Just fill out the yellow form at the top of the side bar on the right. Once you do that, I'll personally send you an email with first video.
For another video for the Forex trader, Simply click here:
http://www.topdogtrading.com/forex-strategies/
Go here to Subscribe to my YouTube Channel for notifications when my newest free videos are released:
https://www.youtube.com/user/TopDogTrading?sub_confirmation=1