Hello, my friend, and welcome to this tutorial on The Only Overbought Oversold Indicator That Works. In this post, we discuss the 3 types of overbought or oversold technical analysis, and the only ONE that gives you a statistical edge. Enjoy!
Was this post/video on The Only Overbought Oversold Indicator That Works helpful to you? Leave a message in the COMMENTS section at the bottom of this page. 
PLEASE "PAY IT FORWARD" BY SHARING THIS VIDEO & ARTICLE ON FACEBOOK OR TWITTER by clicking one of the social media share buttons.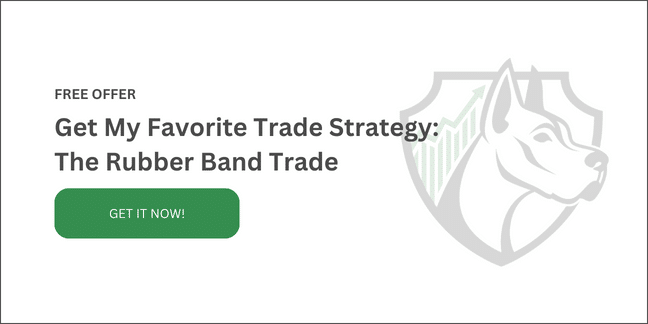 The Only Overbought Oversold Indicator That Works – Video
Today, we're going to talk about why overbought and oversold levels are causing you to lose a great deal of money. They used to cause me to lose a lot of money too, and the whole thing is a joke. It's really deceiving and there are three ways to measure it. However, only one of them works and it's not the one you would expect. I'm going to show that with you here now, by the way, make sure that you take a look at the free indicator that I have for timing your entries.
Go to indicatorwebinar.com and I'll share that with you absolutely free. So, overbought and oversold levels, here's what doesn't work: any indicator that has an overbought or oversold sign on it is nonsense. There you go, that's my grandpa talk, alright. So why is that?
The Problem with RSI – Overbought Oversold Indicator
Because those are bounded indicators, things like stochastic RSI, things like that, and so an indicator is just a math formula. Let's admit it, that's what it is. Therefore, those bounded indicators have an artificial floor and ceiling. What that means is that the person who coded it put in a line in the equation saying it can't go over 100, can't go below 0, so it's an artificial floor meaning it has nothing to do with price action, market movement, momentum, rate acceleration, volume, and none of that stuff. So, for example, the stochastic, why can't the stochastic indicator exceed 100?
Trading is All About Statistical Advantages
Well, just because, well, honestly George said so. That's it, George said so. In that case, it's not really overbought, is it? So, then we might go to another type of indicator which is unbounded, so that would be something like MACD and so on. Now here's the problem with those, okay?
The Problem with MACD – Overbought Oversold Indicator
They don't have an artificial floor and ceiling in the math formula, but they're based on moving averages such as moving average convergence divergence. So then, you have a gravity effect that you are reverting back to the mean, to the moving average. So, sure, there's no absolute number that is blocking it from going higher or lower, but you are fighting against the odds. And really, that's quite good because that's what this is really all about. Trading is all about statistical advantages or as we like to say, having an edge or having the odds on your side.
It all boils down to a statistical advantage. So, artificially bounded overbought oversold indicator have no statistics about being overbought or oversold, and honestly, not much either with things like MACD that have no artificial floor or ceiling because you have that gravitational pull, the reversion to the mean dynamics, that energy that always wants to draw it back to that average.
Dealing with Pure Statistics
The third type of overbought and oversold is more reliable. So here we are dealing with pure statistics, so considering things like average true range or standard deviations, so you get past the norm on those things.
Okay, that is essentially measuring a statistical aberration and now we're talking, alright, now we're talking about something we can deal with, something we can trade, something we can have an edge with because the measurement itself is based on probabilities. But that's not all, here's another problem with those, even though it's rare for the market to break above those standard deviations or ranges, they still will. And the problem is, how long will that last? We could get into what I call a megatrend, a surging bull market or a raging bear market, and it can stay beyond those standard deviations or ranges for a while. And then, you're constantly fighting against that move and when do you fade it?
When do you go against it? So now we come to the issue of timing. So we can use those measurements of going beyond a standard deviation or average true range, but then we have to align that with timing as well to determine when is this move going to exhaust, because again, these megatrends can go on for a long time. Sometimes there's no norm, but the moment you're trading it, that becomes very important. So how do we determine timing as to when the standard deviation extreme is going to end?
Look for Momentum Shifts – Overbought Oversold Indicator
Well, the best way to do it is with actual market energy, supply, demand, and volume disparity. So, we look for momentum shifts. What's a momentum shift? A momentum shift is where the velocity of the order starts decreasing and the volume of the orders starts to dissipate. When you get that combination, that is mathematically what a momentum shift is.
And when you combine that with an extreme of a statistical probability, or as we have talked about, standard deviations, then you have something you can trade and have the odds on your side. That's exactly what my timing indicator does for you. It shows you momentum shifts. So yeah, head on over to indicatorwebinar.com.
I'll spend an hour with you live, by the way, and show you how that works. At least today, they're live. I may turn it into a recording in the future, or maybe I'll take it down. I haven't really decided yet.
Barry is a Viking!
By the way, last little bit here, a lot of you don't know this about me, but I have some Viking in my blood.
I'll turn the camera over this way to prove it to you. There we go. I got some Viking in my blood, alright? So I think you said that and if you're listening to some podcast, by the way, it doesn't make any sense to you because I'm showing you visuals today. I apologize for that.
But you can check it out on YouTube or Facebook if you are really desperate for an outrageous dad joke to end your day. Alright, everyone, well Barry over here at Top Dog Trading, and I hope you found that helpful. This is the kind of stuff that amateur traders don't bother with, or don't understand, or don't delve into the details. And you know what? That's a good thing.
Wrapping Up!
That's why they don't do it, because they know most people don't want to hear that. Well, most people are losing money. If you want to make money, you have to be a professional trader, and the way to do that is to get into this kind of information. And that's it. I'm not going to sugarcoat it for you.
That's the way it is. So, your hard talk, treating our goal is not to sell the most courses. Our goal is to create the most profitable traders, and therefore, we have to tell you the truth, even when people don't want to hear it. That's fine with me. I have many sources of income.
Many streams of income. See, this is where many streams of income come in really handy. If you're desperate for any one of them, you don't need anyone's money. It's a good place to be. That's true security.
Free Offer!
And finally, I am offering one of my favorite trade strategies called the Rubber Band Trade. Absolutely free. And I want you to go and make some money. Try before you buy, or well, actually try and never buy because there's no charge for this trade at all. And I'll give you the setups, the exits, all the rules for it. It's an objective rule-based method based on price pattern action that I don't think anyone else teaches.
I've never seen anything else teach this particular price structure. So go get that by clicking on the green icon in the top right-hand corner of the video there, or by clicking on the green button below, and that'll take you to a page where you can opt-in, get the video for the rubber band trade strategy, along with some other great free tutorials, one of my little mini-courses, absolutely free, courtesy of Barry Burns here at Top Dog Trading.
GET MY FREE MARKET ENTRY TIMING INDICATOR
BTW, if you're interested in the indicator that I use personally for very precise entries and exits. I'm happy to share that with you. Just send me an email at support@topdogtrading.com, and I'll show you how to get access to that indicator.
What did you think of this The Only Overbought Oversold Indicator That Works tutorial? Enter your answer in the COMMENTS section at the bottom of this page.
PLEASE PAY IT FORWARD BY SHARING THIS VIDEO & ARTICLE ON FACEBOOK OR TWITTER by clicking one of the social media share buttons.
FREE GIFT!
I'm giving away my favorite trading strategy that works in trading the markets. Just click on the button below, and I'll personally send you an email with the first video.
Those interested in this video of The Only Overbought Oversold Indicator That Works also showed an interest in this video:
https://www.topdogtrading.com/the-momentum-trading-indicator/
Subscribe to my YouTube Channel for notifications when my newest free videos are released by clicking here:
https://www.youtube.com/user/TopDogTrading?sub_confirmation=1