The Momentum Trading Indicator setups and patterns follow price action. When you see a divergence between the two, that's a good time to look for a change in price structure, before it's obvious on price bars.
Was this video/post on Momentum Trading Indicator helpful to you? Leave a message in the COMMENTS section at the bottom of this page.
PLEASE "PAY IT FORWARD" BY SHARING THIS VIDEO & ARTICLE ON FACEBOOK OR TWITTER by clicking one of the social media share buttons.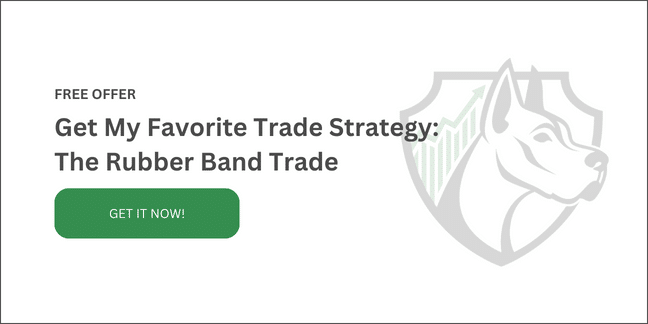 Welcome to today's lesson on Momentum Trading Indicators, and for this example I'm using Forex. This is a good tutorial for beginners, but I'm also going to show you some strategies as well, so let's jump right in.
The Momentum Trading Indicator
As you can see in this video, I am using the indicator called momentum and for today's purposes we'll refer to it as the Momentum Trading Indicator. Mine is set to a default of 14 periods, which equates to 14 bars, or whatever time interval you choose. I'm using a daily Forex market and euro US dollar, but this is indicator can be used on pretty much any time frame. Stocks, Forex, Futures, Commodities, Eminis, or Intraday trading, it's very flexible.
The first thing I have to tell you about the momentum trading indicator is, it's not really a momentum indicator. How'd you like that? In fact, most of the indicators that fit into the category of 'momentum', aren't. Velocity times mass is the equation for momentum, but most momentum indicators do not incorporate volume. There is no weight incorporated into the equation, so it's more properly termed as a rate of change, speed of market or velocity.
In technical analysis, most momentum trading indicators are measuring velocity, or speed. This one is identifying how fast price is moving up, down and by how much. That's going to compare to the close, a certain number of periods ago, whatever you have it set to. There are other indicators that incorporate both velocity and mass at the same time and just so you know, you'll get very different readings from those.
Using the Momentum Trading Indicator
Okay, so how do we use this puppy? The first thing is: we have a zero line here, (see video) so anything that hovers around the zero line is neutral, meaning no momentum. I'll continue to use the word momentum because that's what the indicator is called, to avoid any confusion. Right there it's just hovering around zero, the market is in a channel and kind of moving sideways. Not trending up, and not trending down.
One thing people have said as a criticism of momentum trading indicator is they just follow price, so you don't need to add them. That leads to the objection that they're lagging indicators, but there are times when it can be leading. Here we have an equal high on price, but look at our momentum trading indicator-lower high. That can potentially be giving us a leading indication. The indicator is not just following price. Here price went up and made an equal high but this is a very clear, lower high on momentum.
I wouldn't say this is leading, but it is confirming, which is a very important distinction. When people say there's no such thing as a leading indicator, statements like that are too simplistic and this is one of those cases. There were many times and I would venture to say it is true that the momentum trading indicator will be following price, and I'd say it's confirming. It's confirming the move up already, but there's a minority of the time that it will give us a different signal than price.
Wrapping Up!
I just wanted to share the general concept here today. Looking for strength when we're going in the direction of the trend, and then a
momentum shift at the end of a trend. That's when we'd have a good indication. Now we have a probability scenario that we might not expect this to continue to go up any further. It's a great place to exit, lock in some profits, and look for the next high probability trade.
I hope you found this tutorial on Momentum Trading Indicator helpful. If you have any questions, or comments, feel free to leave them in the comment section below. I'll take them into consideration for future videos because I'm here to help you solve your trading problems.
Free Offer!
It's good to share good things with good people. I have a very specific trade strategy that I want to share with you all the details of my Rubber Band Trade Strategy. It's one of my favorite trade setups that I take all the time to this day. It still works, been working for decades. And I'm happy to share with you all the rules, the entries, the exits, all the details of it.
It's about a 26 minute video that I will give you absolutely free. Just go ahead and click on the link in the top right-hand corner of this video or the link in the description below. As soon as you do that, I will email to you the Rubber Band Trade Strategy.
What did you think of this Momentum Trading Indicator tutorial? Enter your answer in the COMMENTS section at the bottom of this page.
PLEASE PAY IT FORWARD BY SHARING THIS VIDEO & ARTICLE ON FACEBOOK OR TWITTER by clicking one of the social media share buttons.
FREE GIFT!
Also, I'm giving away one of my favorite Best Moving Average strategies that work in trading the markets. Just fill out the yellow form at the top of the sidebar on the right. Once you do that, I'll personally send you an email with the first video.
Those interested in Best Moving Average video that works in today's markets also showed an interest in this video:
https://www.topdogtrading.com/best-trading-indicators-day-swing-trading/
Subscribe to my YouTube Channel for notifications when my newest free videos are released by clicking here:
https://www.youtube.com/user/TopDogTrading?sub_confirmation=1