Stock Screener – A Specific Strategy: Here's a stock screener strategy you can test to scan for stocks to potentially swing trade.
YOU CAN DOWNLOAD THE SCREENING STRATEGY FORMULA IN THE FORM OF A TEXT FILE BY CLICKING HERE
Was this video on Stock Screener – A Specific Strategy helpful to you? Leave a message in the COMMENTS section at the bottom of this page. 
PLEASE "PAY IT FORWARD" BY SHARING THIS VIDEO & ARTICLE ON FACEBOOK OR TWITTER by clicking one of the social media share buttons.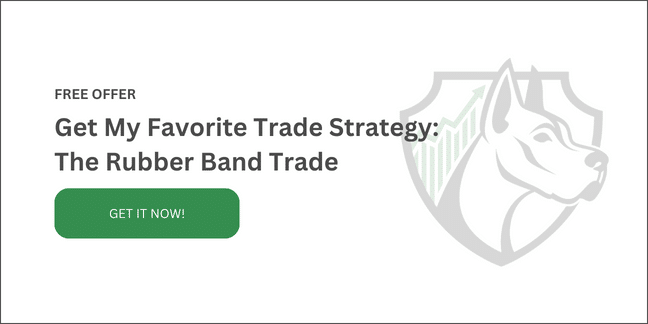 Stock Screener – A Specific Strategy
Welcome to this tutorial on a stock screener called Stock Fetcher. I'm going to share with you a very specific screen that is really great for finding excellent stocks in a particular technical analysis configuration. First of all, this is part two, you're welcome to watch this first if you want to but it is a follow up to my video "How to Choose Stocks for Swing Trading". I'll put a link in the description below and you can go check that out afterwards. That one was really a product review of Stock Fetcher, and I got so much response of people emailing me saying "hey, that's all awesome but can you show us a specific scan or a screen?". So you spoke and I listened. And here is one, all right? So let me show you how this, this is called the double stochastic short.
This is one of mine that I created – they do have pre-made filters as well, they call them filters instead of screens or scans, just a different term for the same thing. Let me actually show you the formula, giving you all the goodies. Here we go, this is the formula and let's go through this and, instead of you having to write all this down, don't bother doing that because I will also put a link in the description to a page in my website and I'll put a link on there with a text file so you can just copy and paste this if you'd like to. How is that, do I help you guys or what? So let me explain what this is, first of all.
Best stock screener
By the way, you can just copy and paste this once you get it and this is what I like about a Stock Fetcher because I am NOT a programmer and as you can see, it's not really programming language but I'll explain what it is. So show me stocks we're the double stochastic – that's our first indicator we're going to use. In the settings, there are 10 and 3, as you can see, is above 70. Since we're going to be going short, then what we want to do is look for a stochastic that is very high, we want it to be high because we're going to be going short. What typically is caught called overbought, even though I hate that term but that's kind of the idea. Then what we want to make sure that not only is it a high level but it's angling down.
So it's been decreasing for one day – we're looking at a daily chart here. It's now going up to a very high level, the infamous overbought level, and is now sloping back down – that's indicator number one. Now, indicator number two, the 50 period simple moving average. I'm putting there that the two day slope of it is basically down – that's what that means, below .0 negative 01. So I want that 250 ma to be sloping down. What that means is the stochastic is an oscillator and it's a very short term. Now we're looking for the long term moving average to be down 50 periods. Then, by the way, you can edit this to what you want so I put in here average volume over 90 days is above 50,000.
Technical stock screener
Now, if you want to put a hundred thousand there or whatever, obviously, you can customize this and you can customize the price. So I'm only looking for stocks between $10 and $80, again, feel free to vary that if you want the only lowest priced stocks or highest priced stocks. Now, I add it on to this also, and I see a little table there actually. Let's remove that (this is the cool stuff when you teach). So we click over here and edit. They say if you want to learn something, teach it. There should be the word "and" actually, and the CCI for 14 periods has been decreasing for one day, alright? So I'm gonna save this, just save it at the same one. Then we've got, let's see the weekly CCI 14 periods. Now, I want to look for concurrent timeframes, right?
Not just the daily chart but now I want some sort of indication that on the longer term timeframe, in this case the weekly, I'm going to use CCI as the momentum indicator here that the longer term momentum is also going down since we're looking for a short. And we're also going to require that on the weekly double stochastic that it is also angling down on the weekly. See that's one of the things I love about this is that in one scan, you can look for certain parameters, filters as they call it here, on multiple time frames. There are some scanners out there you have to scan first on the daily chart and then you take the results of that and you run it through a weekly scan. That's okay too but it's so much easier just to plug it all into one formula here, right?
Best stock screener for day trading
There we go, alright? So let me take this off, let's run our scan – actually let's see let's just make sure we have that saved. We're gonna click on fetch stock so let me move the window over again a little bit here for you. I think you can see everything there now. Yes, so gonna fetch stocks, okay? And they're the same ones so I think the formula actually accounted for my faux pas there. Okay, so we'll take I like this one, it's moved down the most and if you see the price is within our range. I like that this has a lot of volume, has the most volume of the four; you could click on any one of them here but, again, just to give you an example, let's pull up a chart. So here's what we got, here's what it looks like.
Now, let me bring this back up, my annotations. So the 50 ma is my purple line, I get my arrows, so that is angling down just like we said. Here is our double stochastic, you see that's angling down. It's above 70, and angling down. This is our CCI, again, in the formula, angling down. Now, this is our weekly CCI – see it plots it right on the same charts so you don't have enough to look at two charts, it plots both the daily and the weekly indicators on the same chart and that is angling down, alright? So we got all these energies going down, the 50 ma – I do have to move the chart again so I gotta take the annotations off. Now, I'm gonna have to move the whole screen capture.
Stock scanners for swing trading
Anyway, unfortunately I can't point this out but down here, this is the weekly double stochastic and it's off the screen capture but it's angling down too. So that's what we're looking for. Now, this line down here, that is the 200 period simple moving average. We got a nice candlestick bar pattern in there as well don't we? And this yellow line, that is the 100 period simple moving average. So this is what, in Top Dog Trading, we call the pinball pattern. We got stuck into a pinball pattern here and the pinball pattern is when you get stuck between the moving averages – the four moving averages I'm using here are the 15 EMA, the 50 SMA, the 100 SMA, and the 200 SMA.
And this is a common pattern that we find a lot where we will get stuck in between these moving averages, we just got to pinball between them and then we look for a breakout. So it is a type of expansion contraction pattern, similar to a Bollinger Band squeeze. But it's more of a moving average squeeze and then we're looking for a break out of them. In this case, would be looking for the breakout to the downside – that's one of the questions people always ask is well when we get into these contracting patterns, whether it's Bollinger Band squeezes, triangles, or, in this case, a pinball pattern of the moving averages, how do I know which way it's going to break out?
Stock screening strategies
Well, of course there's no certainties on trading, but the way we're going to decide it this time is based on all these energies going down, both on the daily and the weekly, and of course having a nice candlestick pattern there doesn't hurt either. There you go, there is a specific scan for you. By the way, I got to be very clear that this is not, in any way, shape or form, a recommendation or I'm not taking this trade by the way just to let you know that, I will not take this trade so I have no financial interest in it but, on the other hand, I'm not licensed to give any particular trading advice. This is just for an example and I'm not recommending that you take this trade or any other trades, buy any stock, short any stock.
I'm not a licensed financial advisor, before you do anything seek out the advice of a professional financial advisor. This is just purely for illustration purposes only. But if you want to try that scan, try it for yourself over a large sample of data. See if you like it, maybe paper trade it for a while. See if you like it, see if it works for you and, again, that's totally your responsibility, not mine, alright? Now that I've legally covered my butt – seriously, that is important. In the next video, I'm actually gonna dive a little deeper into the double stochastic. I'm going to show you some very cool pattern that I discovered on the double stochastic that I really like. So that'll be coming in the next video so that'll actually be kind of a part 3 I guess of this series.
Free offer!
If you liked the video, if you got something out of it, if you thought it was good, then share good things with good people by clicking on the share button below. Also, I am giving away one of my favorite trade strategy, it's called the rubberband trade. That is a complete strategy where it is a complete technical analysis set up, the entries, the exits, the protective stops, everything. It takes me a little longer to explain all of that but I'll give that to you absolutely free.
Just click in the top right-hand corner of this video, there's gonna be a little image there. Click on that and it'll show you exactly how to get that absolutely free. It's one of my whole mini courses for you actually. I like to, as you can see, give things for free. By the way, I love your comments. Click the thumbs up button and give me some comments down below. Let me know what else you'd like to see in the future, what else you want to learn. If you liked this video and I do this for free so your encouragement is much appreciated.
GET MY FREE MARKET ENTRY TIMING INDICATOR
BTW, if you're interested in the indicator that I use personally for very precise entries and exits, I'm happy to share that with you. Just send me an email at support@topdogtrading.com, and I'll show you how to get access to that indicator.
What did you think of this tutorial on Stock Screener – A Specific Strategy? Enter your answer in the COMMENTS section at the bottom of this page.
PLEASE PAY IT FORWARD BY SHARING THIS VIDEO & ARTICLE ON FACEBOOK OR TWITTER by clicking one of the social media share buttons.
FREE GIFT!
Also, I'm giving away one of my favorite Stock Screener – A Specific Strategy strategies that work in trading the markets. Just fill out the yellow form at the top of the sidebar on the right. Once you do that, I'll personally send you an email with the first video.
Those interested in Stock Screener – A Specific Strategy video that works in today's markets also showed an interest in this video:
https://www.topdogtrading.com/how-to-choose-stocks-for-swing-trading/
Subscribe to my YouTube Channel for notifications when my newest free videos are released by clicking here:
https://www.youtube.com/user/TopDogTrading?sub_confirmation=1