Stock Market Trading When To Exit A Trade is critically important to know. If you get out too soon, you won't make as much money as you could have. If you stay in too late, you may give back a lot of your winnings.
This affects your reward to risk ratio which is a crucial metric in your trading.
This video and article provide Stock Market Trading: When To Exit A Trade that help you remain in a trade as long as the odds favor you, allowing you to receives as much reward as realistically possible.
Enjoy the video and please leave your comments below.
PLEASE "PAY IT FORWARD" BY SHARING THIS VIDEO & ARTICLE ON FACEBOOK OR TWITTER by clicking one of the social media share buttons above, or at the very bottom of this article.
VIDEO TEXT
Today we are going to talk about when to get out of a trade. With your stock trading, also futures, also e-minies and Forex, anything you're trading. This will work, this will apply. We're also going to talk about getting out of a trend trade. Because different types of trades have different types of exits. So exits turn out always exactly the same.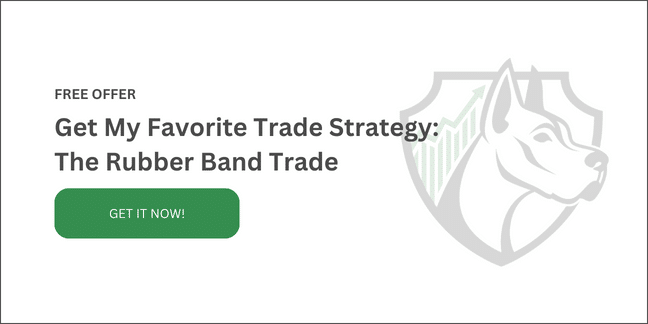 Here we see that we have crossed above the 50MA. This line that turns from green to red is the 50 period simple moving average. I use that as my line and the stand between bull and bear market. We get, it tries to push up, tries to get into bullish territory, doesn't really work very well. Kind of consolidates you a little bit, and then boom. Then we get into a good clear down trend.
THE KEY IS THE RETRACE
It's the retrace that I want to look at, and the retrace is weak. In other words when we get into trend trades, what we are looking for, for an uptrend, we want strong movement up. And weak movement down. So there's a lot of buying for the bullish side and there's not much selling.
This might just be profit taking, very late selling to the downside. We also want to trade in the dominant direction of the market where there's the dominant energy. That's the point. Same with the downside so that's what we have here.
Here we had a strong move up. Then we also had a strong move down. That's not what you want. That is not a good sign for sustainable uptrend. Because this down move negates this up move. It actually completely negated it by retracing 100%.
TRADE WITH THE DOMINANT ENERGY OF THE MARKET
Here we had a strong impulse move down. And a very small move up. The dominant direction is down. The sellers are overwhelming the buyers and we can get in. Now that would be our first retrace in the trend. This black line by the way to 15 EMA. And I look for the market to retrace approximately to the 15 exponential moving average on these retraces.
And then we get another move down. Another move up again. Just straight to 15 EMA and holds it, and another move down.
5 waves is what I look for. And I start counting these waves, these are not Elliot waves. We're counting these waves after the market crosses the 50 MA. I use that as a conformation of trend. And so it's a little bit of lagging indicator but that's when I start counting my numbers. And it's simply making lower lows on the downside. If we are going the upside, making higher highs.
HOW LONG WILL THE TREND LAST?
Now the average trend when you counted this way lasts 5 waves. That's the statistical average. And so once we get into that, I am looking then to get out during wave 5. The famous trader W.D. Gann talked about trading being all about the confluence of time and price.
This also has to do with timing, in the sense that 5 waves is average. And then we are going to look at our cycle indicator. By the way if you are interested in my cycle indicator. I can share that with you and just send me an email at support@topdogtrading.com and I will show you how to get it absolutely free and as well as our tutorial on how to trade it. This thing is amazing when you trade it correctly. So during my 5, that's the time that's optimal to get out of a trend.
THE CONFLUENCE OF TIME AND PRICE
Now price and time. I agree with both of those. Let's do something else here though. So that's time, let's look at price. So let's bring out the Fibonacci extension. We'll go from impulse move we talked about, went down harshly and then retraced light. And with bar above, there I guess. So yes, so we see we've got.
This would be what's called your measured move. A 100%, there's 200%. Pretty much 200% is quite often where the market will put in a wave 5. This one goes a little bit further. And that's fine. So again, now you've got the confluence of timing which is wave 5. Also cycle indicator confirms that. You've got your price, time and price. And that comes over here because we got the Fibonacci extension.
The final key to Stock Market Trading When To Exit A Trade:
Now the 3rd thing we're going to add to this is momentum. Down here is our momentum indicator. And this is just the pure momentum indicator, it's a 14 period momentum indicator. As you see the momentum from here to here had been down pretty good. Stayed down below zero. And then when we get into wave 5 it comes back up to the zero line. That's the 3rd element I look for. Time, price and a momentum shift.
LOOK FOR MOMENTUM SHIFTS
It's still negative here. It's just weaker to the downside but it's still bearish. If I want to take a reversal trend, let's say I wanted to go long at the end, the down trend. Then what I would do is the same technique except wait until momentum get above the zero line. Because I want bullish momentum.
With Bullish momentum, this thing's not going up. That's strength. Because this could go sideways for a while, and then develop more strength and continue down, and make waves 7, 9, 11, 13, so forth. And that does happen sometimes. So that's not the rule but sometimes, the exception of role occurs.
Stock Market Trading: When To Exit A Trade
I'm going to take a reversal trade which is a lower probability trade frankly. Then I want to make sure that I've got momentum shifting into bullish territory. Now it goes into bullish territory and then retraces to the zero line but does not go down. Does not establish bearishness to it. At this time I've got wave 5. I've got a retest of it twice. That's our principle of 3 that I talk about. If the market can't breakthrough a support level after 3 tries, usually it's not going to. At least not now.
Market participants look at that, and say, 'Oh this price level has failed to break 3 times in a row. Okay, probably not going to happen.' And then people actually go to the other direction. So that's great, so we've got rule of 3. We've got a cycle low here. We've got our bullish momentum starting to pick up and it does. It confirms.
Sure enough, now this is an aggressive trade, this is an early trade, you are getting in before the trend is confirmed. Trend's not confirmed until here. But we can use these things to get us in even before. Confirm that now we go into (6:38) back to 1, 2, 3, 4 and so forth.  Right. So there you go. That's both how to get out of the trend and into a trend reversal. 2 lessons in 1 today.
Pay It Forward My Friend
PLEASE PAY IT FORWARD BY SHARING THIS VIDEO & ARTICLE ON FACEBOOK OR TWITTER by clicking one of the social media share buttons below.
Leave a comment below telling me what other information you'd like about what's the best time frame for trading that you'd like me to teach in the future.
Also I am giving away one of my favorite trend trading strategies that work today. Just fill out the yellow form at the top of the sidebar on the right. Once you do that, I'll personally send you an email with first video.
For another excellent trading video, simply click here:
http://www.topdogtrading.com/candlestick-chart-trading-what-works-today/
Go here to Subscribe to my YouTube Channel for notifications when my newest free videos are released:
https://www.youtube.com/user/TopDogTrading?sub_confirmation=1