I still remember the first time I heard about short selling stocks. I knew all about buying stocks. And I knew that after you bought them you could sell them. But it never occurred to me that you could sell them BEFORE you bought them!
The concept took a little while to get my head around.
As I discussed this new (to me) concept with other investors and traders, I soon discovered that many people feared short selling stocks and the idea made some people mad as they accused anyone who would short a stock as "un-American" because they are "betting against American business."
For some reason, shorting never bothered me. It didn't feel scarey and it didn't strike me as unpatriot. On the contrary it made perfect sense that people should be able to participate in the market whether it is going up or down. To only be able to invest to the upside seemed rather limiting and naive … but I was certainly in the minority in that opinion.
First let's address the issue of what short selling stock actually is. It can be very confusing to someone new to the markets who have been taught to buy low and sell high.
Actually, shorting the market is still buying low and selling high. It's just doing it in the reverse order: First sell high, then buy back low!
But the mystifying aspect to most is: How can you sell before you buy?
Actually what you would normally be doing is borrowing the stock (since you didn't buy it first), then selling it so you you can buy it back later at a lower price (and then return the shares to the lender).  There is also a fee for this "borrowing."
While that may sound complicated, it's a fairly simple process with many brokers and can be executed with the simple press of a button (assuming you have meet all the requirements of your broker and the stock is available for shorting).
You can also short Futures which have been historically more friendly to short sellers than the stock market.
One objection is that shorting is more risky than buying because if you buy a stock your risk is limited to the stock going down to zero. But if you short, there is no limit how high the stock can go against your position.
So, is short selling stock really evil?
Does it hurt the stock market?
Does it do damage to American business and our economy?
This is a perennial topic that seems to pop its head up most commonly during bear markets (for obvious reasons). And so as Washington is attempting to "clean up Wall Street," the topic is back on the table in D.C. again.
One topic on the table: Restore the "uptick rule." This rule was introduced during the Great Depression and required that a person could only short a stock if it moved up a tick before you shorted it. The intent was to curtail "bear raids" which could send the market crashing down. However at the time, the stock market moved in fractions. Now it moves in pennies and so the uptick rule has less effect as a move up or down by a penny is inconsequential.
It was only last September when the SEC attempted to curtail the bear market by such a policy. But they didn't simply re institute the uptick rule, they actually implemented a temporary ban on the shorting of hundreds of financial stocks.
Did it work?
Look at where the market was in September 2008 and you'll see that it wasn't too successful at holding the market from going down further. Whether it saved some of those financial institutions from going out of business may be another question.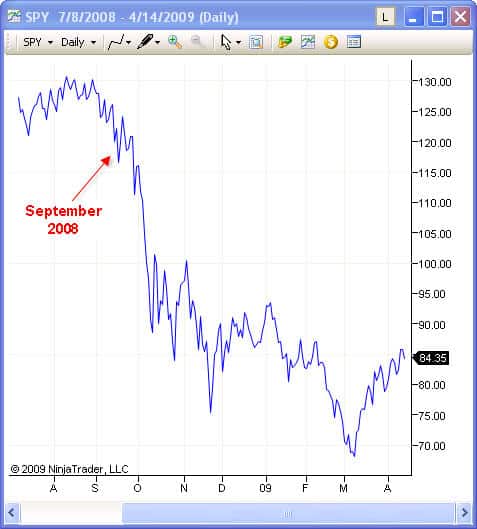 Sometimes investors get overly excited and pump up markets beyond their true value. We've seen this with real estate, financial institutions, technology and even tulips!
While it is good to maintain some balance, and it is certainly possible for the market to go to extremes up or down, short sellers provide a valid role in the markets by helping to apply pressure against the infamous "irrational enthusiasm" we've experienced in various markets over the years. And if they don't prevent it, at least they play a role in bringing markets back to their fair value eventually.
That's my opinion.
What's yours?
Leave your comments below.