Trend Trading Strategies have been very popular in trading stocks, Forex and commodities for many decades.
It's often been said, "The trend is your friend," and that can be true. But that's not the entire saying. Here's the whole truth:
"The trend is your friend, until the end!"
And perhaps another way to say it is:
"The trend is a fair weather friend."
All trends come to an end. This video and article provide trend trading strategies that help you stay in a trend while it lasts so you can potentially make the big profits when they're available.
Enjoy the video and please leave your comments below.
PLEASE "PAY IT FORWARD" BY SHARING THIS VIDEO & ARTICLE ON FACEBOOK OR TWITTER by clicking one of the social media share buttons above, or at the very bottom of this article.

VIDEO TEXT:
Welcome to this video on Trend Trading Strategies. Let's get started by looking at a chart (see video above).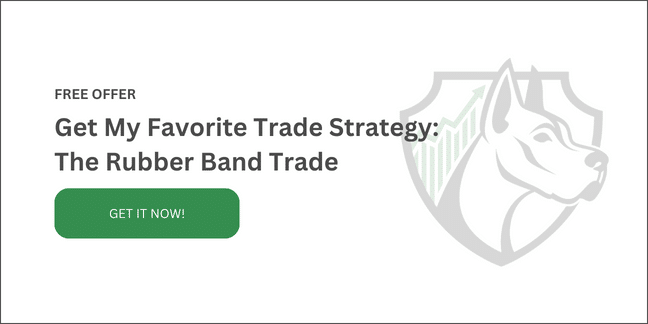 USE A LONG-TERM INDICATOR TO MEASURE TREND
I like to use the 50 period simple moving average. It's a commonly used moving average. There's a self-fulfilling prophecy to it because so many people use it. It's the black line on the chart. You can see here it goes up and then sideways and then resumes up again. This is an intra-day chart by the way. So on the middle of the day, there's lunch time and that's why things calm down.
WHICH WAY TO PLACE ORDERS USING TREND TRADING STRATEGIES
We're going to be trading in the direction of the 50 period simple moving average, meaning the angle of the moving average and also whether we are above or below it. That's just the direction though. That doesn't tell if it's a strong or weak trend.
THE TREND ISN'T ENOUGH TO MAKE MONEY
In addition to trend, we have to look at 2 more things, momentum and volume. There is volume down at the bottom, and then right above it, we'll have momentum as well. Notice the purple horizontal line with the momentum indicator, that's the zero line that shows we have no momentum.
This isn't a good time to be using trend trading strategies because volume's low and momentum's low. Price is just moving sideways. That's because that's during lunch time. Now I love to take trades right out of lunch time and here is a good example.
Notice how volume picks up at the bottom. Momentum picks up dramatically and the range of your price bars pick up as well. So now we start a new strong trend and also of course that 50 SMA (simple moving average) is angling up. That's our directional indicator. That's a great trade that I always look to take every single day.
THE TREND IS YOUR FRIEND … UNTIL THE END!
Now how long do we stay in this trade? That's the next question. Well count your waves. The average trend is 5 waves. I'm not talking about Elliot waves. We want a very objective way to measure waves so here is what I do …
I'll take a horizontal line such as this, and I'll draw across the first high there. So that would be wave 1. Now wave 2 will have to be not just a higher high, but the real body of the candlestick, in other words, the green or the red area has to be higher than that initial high. And so there is wave 1, and then there is wave 3.
So we have a real body above the higher wave 1. In between wave 3 and 1 of course is wave 2. That will be the lowest low. After wave 3, we've got wave 4 and then wave 5, finishes up and that's about the time that I want to get out of the market.
So that's all there is to it. And that's about the time I am going to exit. So remember these 4 simple steps:
Use a long term trend indicator.
Look for momentum.
Look for volume.
Count your waves, so you don't overstay your welcome.
Pay It Forward My Friend
PLEASE PAY IT FORWARD BY SHARING THIS VIDEO & ARTICLE ON FACEBOOK OR TWITTER by clicking one of the social media share buttons below.
Leave a comment below telling me what other information you'd like about what's the best time frame for trading that you'd like me to teach in the future.
Also I am giving away one of my favorite trend trading strategies that work today. Just fill out the yellow form at the top of the sidebar on the right. Once you do that, I'll personally send you an email with first video.
For another excellent trading video, simply click here:
http://www.topdogtrading.com/candlestick-chart-trading-what-works-today/
Go here to Subscribe to my YouTube Channel for notifications when my newest free videos are released:
https://www.youtube.com/user/TopDogTrading?sub_confirmation=1