Stock chart reading (technical analysis) can be very powerful, but if you don't fix this one problem in the default setting of most charting software platforms, you can lose a lot of money (even if you're a great trader!).
Was this video/post on Stock Chart Reading helpful to you? Leave a message in the COMMENTS section at the bottom of this page. 
PLEASE "PAY IT FORWARD" BY SHARING THIS VIDEO & ARTICLE ON FACEBOOK OR TWITTER by clicking one of the social media share buttons.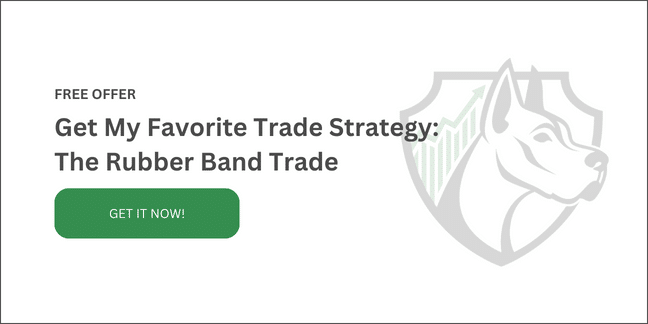 Welcome to this tutorial on Stock Chart Reading for beginners and advanced traders. The one easily fixed flaw on most charts that leads to failed trades.
Stock Chart Reading Basics
Today, a quick lesson on Stock Chart Reading basics. This is really beginners stuff, but I have to say it's not only for Stock Charts, but Forex, Futures, anything that you can chart. It's that stuff that even intermediate or advanced traders forget. A simple lesson, but a very important one.
The question is, "How do I scale my charts?" Right now, I'm using TradeStation, and I have it set to automatic, so it's doing the scale range based on the date range on the screen. What does that mean? When you choose that setting, it's going to automatically scale the chart so that the visible high and the visible low stay on the chart. That will change your scaling as time goes on.
For example, (see video) we have 20 cents between each of these markers. I scale forward and see what happened? Now, between each marker, there is five cents! You see how it changed the scaling? That type of scaling is going to always keep the low and the high visible on the chart. There will never be any black space at the top, or black space at the bottom, and it's going to change the scale. That can be very visually deceiving.
Stock Chart Reading and Scaling
Now, if I were to actually expand there, that's our narrow range market we were looking at. Before it looked very narrow range, just sideways, and all of a sudden it looks like there's some major swings here. A pretty significant swing down, and that looks like it's a pretty significant swing up. No, we're back to five cents between the markers and that can be a problem. For most people I think it is a problem because it's visually deceiving. My point is that you want to have a set scaling.
This is the bottom line. Whatever you set depends on the price of the market. This stocks over $100.00, so if you're dealing with a penny stock, obviously you're going to have to set a different stock chart scale. Futures is different, and Forex is different, so you decide on what scale is meaningful for the market you're trading. To see consolidation, and not fill the chart from top to bottom where it looks like there's real movement. You want to be able to see that this is just a choppy, sideways, consolidating market.
It's not just different markets, but different time intervals as well. This is a five minute chart, so you decide on what increment is good for your Y axis. I'd say it's 50 cents, but you decide. If I were to use a 60-minute chart, let's say I'm using multiple time-frames, I'm not going to use 50 cents on the 60-minute chart. I'm gonna want to have a wider spread between those hash marks.
Wrapping Up!
You want to set this to a value that is consistent at all times. Every time you look at it, your eye will get used to the patterns and not be deceived by the variable scaling that would otherwise naturally occur. Decide on what's good for each of your markets, and for each of your time-frames. Set it and never change it. Otherwise, it will be deceiving to your eyes. This is one practical tip on how to avoid getting chopped up in choppy markets.
I hope you found this tutorial on Stock Chart Reading helpful. If you have any questions, or comments, feel free to leave them in the comment section below. I'll take them into consideration for future videos because I'm here to help you solve your trading problems.
Free Offer!
It's good to share good things with good people. I have a very specific trade strategy that I want to share with you all the details of my Rubberband Trade Strategy. It's one of my favorite trade setups that I take all the time to this day. It still works, been working for decades. And I'm happy to share with you all the rules, the entries, the exits, all the details of it.
It's about a 26 minute video that I will give you absolutely free. Just go ahead and click on the link in the top right-hand corner of this video or the link in the description below. As soon as you do that, I will email to you the Rubberband Trade Strategy.
What did you think of this Stock Chart Reading Tutorial? Enter your answer in the COMMENTS section at the bottom of this page.
PLEASE PAY IT FORWARD BY SHARING THIS VIDEO & ARTICLE ON FACEBOOK OR TWITTER by clicking one of the social media share buttons.
FREE GIFT!
Also, I'm giving away one of my favorite Best Moving Average strategies that work in trading the markets. Just fill out the yellow form at the top of the sidebar on the right. Once you do that, I'll personally send you an email with the first video.
Those interested in Best Moving Average video that works in today's markets also showed an interest in this video:
https://www.topdogtrading.com/best-trading-indicators-day-swing-trading/
Subscribe to my YouTube Channel for notifications when my newest free videos are released by clicking here:
https://www.youtube.com/user/TopDogTrading?sub_confirmation=1