"What's the best chart interval for day trading?"
One of the most common questions I receive is regarding the best chart interval for day trading. This question often comes into the "Ask Barry" service.
This is a service where anyone can ask me a question about the market, technical analysis, trading, money management, etc.
You can use the form in the right column of this blog (scroll down a bit to find it). I personally respond to all questions by sending you an email, and some questions get posted in this blog.
Today's question (which has come in several forms from several different readers):
"Yo Barry, I notice in a lot of the charts you post, you use tick charts. Does that mean your method is more for day trading than swing trading? What's the best CHART interval for day trading? And what's actually the difference between minute charts and 'tick' charts?"
Thanks to all who asked these questions. They've been common ones so I thought it was time to answer them publicly.
TICK CHARTS VS. TIME-BASED CHART INTERVALS FOR DAY TRADING
First, my method is definitely not more for day trading than swing trading. I'm a very active swing trader and use the same method for both swing trading and day trading.
Second, there's no best chart interval for day trading, but there is one that's best for YOU. Each has advantages and disadvantages. Evaluate them for yourself and choose an interval that fits your personal trading style, execution speed, degree of patience and risk tolerance.
Faster charts give you more trades per day and can lower your risk per trade. That's at the expense of being more "noisy" (having more meaningless and false moves). This requires you to make faster decisions since the bars finish faster, especially in fast markets.
The slower charts (longer time-frames) grant you more time to make trading decisions. They have less "noise," but since the point range of each bar is bigger, your risk per trade is larger. In addition, since they provide fewer trades per day, it's easier to get "lulled to sleep" during long periods of insignificant activity.
Third, as to the difference between tick charts and minute charts, that's going to take a little more explanation.
With most charts, each bar represents a period of time.
On a daily chart, each bar contains all the price action of that one day, and when the next day starts, a new bar is plotted.
With a 5 minute chart, each bar represents all the price action for 5 minutes, and when the 6th minute begins, the chart plots a new bar.
"Tick" charts are different in that each bar does not represent any particular amount of time. A "tick" is a "trade." So every time someone places a trade, that is called a "tick."
A 200 tick chart, then creates a bar that includes all the price action for 200 trades. Only when the 201st trade goes through the market, the chart plots a new bar.
If the market is slow, it could take 5 minutes for 200 trades to go through the market.
When the market is fast, it could take 30 seconds for 200 trades to go through the market.
So tick charts are a way of incorporating volume into the price bars and price formations themselves.
However, remember it isn't really measuring volume directly because trades ("ticks") will have varying amounts of volume. One trade could be for a single contract, and another could be for 50 contracts.
You can also plot "volume charts" in which each bar represents how many contracts (shares) each bar will represent rather than how many trades.
Which is better?
There is no objective answer to that. Each has advantages and disadvantages.
Some people prefer minute charts (1 minute, 2 minute, etc.) because they tend to form more traditional candlestick patterns.
My trading method isn't dependent on any time interval, or whether you use minute charts or tick charts.
Personally, for day trading I use tick charts as my primary charts … but I do have a 5 minute chart that I'm always watching as well.
I personally prefer tick charts for 2 reasons:
Tick charts tend to create more symmetrical patterns than regular minute charts. That's because when the market is extremely slow, minute charts will continue to plot a lot of small bars that go no where. When the market is fast, it will create very long bars, because it can't create a new bar until "time is up" (5 minutes, 15 minutes, etc.).
Tick charts often create more narrow range bars than minute charts at turning points. This allows you to keep my risk smaller (because risk is defined by the range of the bars at cycle turning points in the market).
To see a VIDEO that demonstrates these differences in minute charts and tick charts, visit my page on YouTube at: http://www.youtube.com/profile?user=TopDogTrading
BELOW ARE A 2 MINUTE CHART AND A 200 TICK CHART OF THE SAME TIME PERIOD ON THE NASDAQ FUTURES FOR COMPARISON. Look at them and see what you think is the best chart interval for day trading.
CLICK ON THE CHARTS BELOW FOR LARGER IMAGES: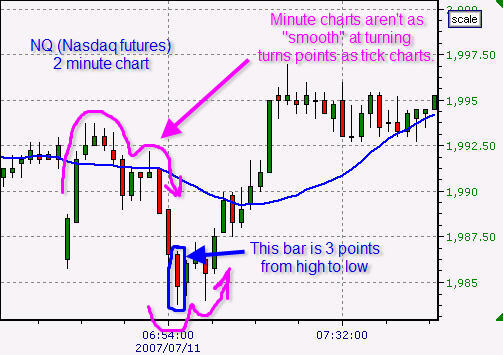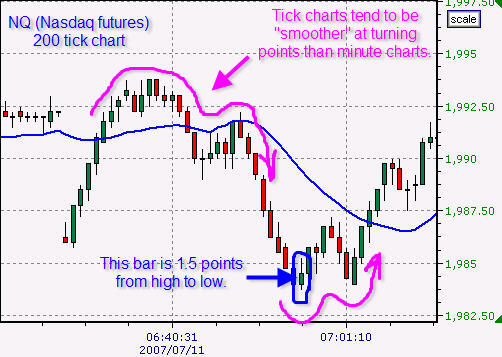 .