I hear the same story over and over …
"I was making money, slowly and gradually increasing my trading account, and then I lost all my winnings on one or two trades."
Ever heard that?
Ever done that?
There are ways to protect yourself from this common trading problem. Some are simple disciplinary issues, some are money management techniques, but when it comes to Swing Trading the use of options can be your best tool.
Some traders think that they protect themselves against big losses, and their corresponding huge draw downs, by putting in "hard stops." These are stop orders actually placed with your broker so if the market goes down to a certain level, you are automatically taken out.
This approach does protect you most of the time.
But what about when the market GAPS against your position overnight?
If you use a stop order, the price at which you placed your stop, which you thought limited your risk, is never executed. Instead you get filled at a much, much worse price.
For this reason some people use a stop limit order. This way if the market gaps far away from their stop, they do not end up selling at the terrible price. However this doesn't remedy the situation because they are still in the position at the terrible price … which can get even worse.
Don't think it will happen to you? Below are just 3 examples that all happened TODAY as I write this.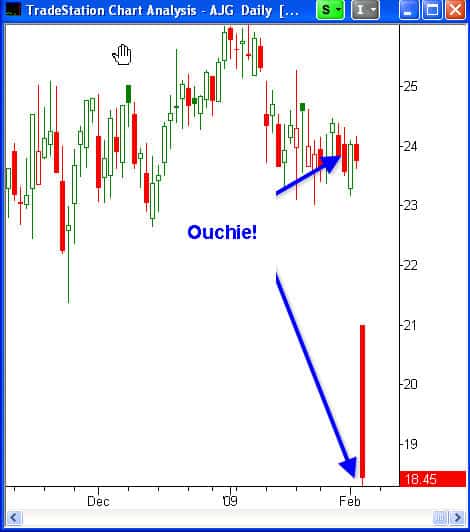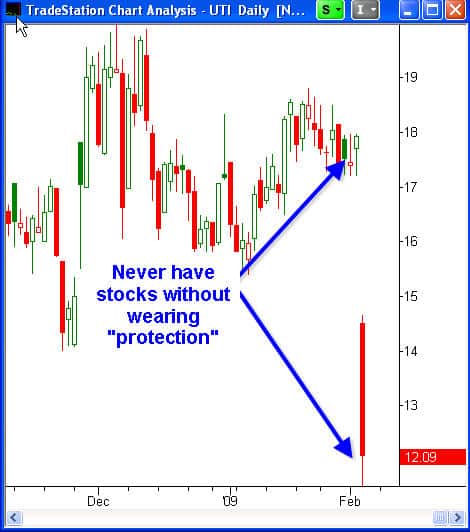 The best way to protect yourself against these types of dramatic gaps against your position is with option strategies.
If you're interested in really learning about options, you can take the same options course I took. [disclosure: I'm a compensated affiliate for this program. On the other hand I only recommend things I feel will be of great value]
I will also be giving 3 "gap insurance" techniques in my upcoming Swing Trading Course, due to be released next week.
Whatever approach you decide to employ – make sure you take this issue seriously and have a strategy in your trading plan regarding how you protect yourself against these types of devastating moves against you.
Please leave your comments or questions by clicking on the green "Comments" link at the very bottom of this entry.
.