Having a breakout strategy using patterns is a great way to win in Forex trading. Then again, one cannot rely solely on them; learning the other trading fundamentals is as important too.
This video will tackle a sound breakout strategy that works in today's market which will definitely help you tremendously in your Forex trading career (as well as stocks and futures).
Was this video on Forex Trading Training Breakout Strategy Patterns helpful to you? Leave a message in the COMMENTS section at the bottom of this page. 
PLEASE "PAY IT FORWARD" BY SHARING THIS VIDEO & ARTICLE ON FACEBOOK OR TWITTER by clicking one of the social media share buttons.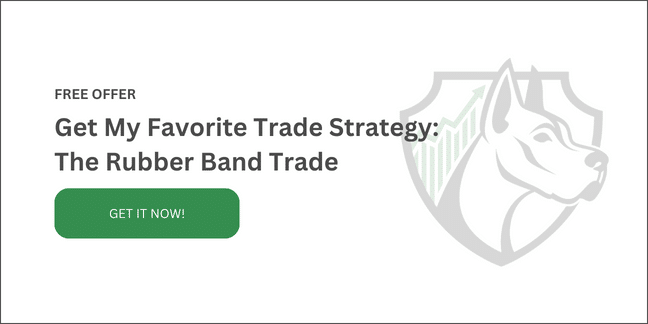 Forex Breakout Strategy
Welcome to this FOREX trading training today, trading breakout strategy patterns, and this is based on, well in top dog trading, we call it the rule of three. I should mention that this will also work with futures and with stocks as well, but today we're going to show it to you on FOREX, it's a simple pattern, but it has a very profound psychological, logic behind it. So we look at a level such as this high, and we're looking basically for a level that really stands out that a lot of people are going to see. This is a daily chart, by the way, therefore they're going to see a big move appear. Big move down to there and this is important because this is why it works. It's the mass psychology of it that a lot of people are going to see.
That is a major swing high. Again, especially since it's on a daily chart and lots of people look at daily charts, you've got masses of people seeing that high. Now, where the psychology comes into that is as the market comes back to approach that same level, you're going to have three types of reactions, but they're all based around the same issue that people are looking at that last high in saying that's as high as the market would go. In other words, that's the most people were willing to pay for this particular market. Now that we're a few months out into the future here, the market remembers. It has a memory as people say. This is probably the best illustration of the market having a memory is people looking at that and saying back then we couldn't get enough people to buy at a higher price.
Forex Daily Breakout Strategy
Think of it like I'm going to buy a car. And the car lot has 50, they have a particular model and they want to know they want to move those cars, of course. But nobody's willing to pay more than what they're asking. So everybody's trying to get a deal or nobody's just interested at that price at all, zero. What did they have to do? All the car dealerships going to lower the price, supply and demand, basic economics that people are watching that level and they're going to say, 'I wonder what the other people in the market are going to do when we get back to that price, we'll send them that change'. Will there be people willing to pay more? But the doubt is there. That's the key, doubt, hesitation, lack of confidence, lack of certainty in the masses.
Therefore, it is most likely to fail. That is the one that the first attempt. Here's the point, so this is the first time that we got up to this price level and then this is the second time and you'll see that yes, it did get above it, but then it came right back below it. So it technically failed them. You couldn't get a large number of people across the globe that have this plan, who we lovingly call earth to go ahead and pay more money, couldn't get enough buying traction for the price to go up. So conversely, of course, the price goes down and that's the psychology of it. Now, three things happen. As I mentioned on those three things are number one, some people are going to look at this price level and they're going to say, 'I'm just not gonna do anything right?'
Forex Breakout Strategy Rules
It's coming up there. I'm thinking of buying. These will be your potential breakout traders and some people will buy. We did get some prices above there and so some people say, no, I'm looking to buy. And then, on the other hand, the same breakout traders will say, I'll buy it literally. Technically if you're going to account pips, it broke above that high, so you're going to get some buyers. They get stopped out, they get screwed, right? Hate that. Nobody likes that false breakout. The number two thing that happens is that some people will short that and so they're looking for this kind of pattern. They're looking specifically for false breakouts.
I think this is actually a better higher probability pattern to trade and they're going to take a short and then you've got people who perhaps bought down here. This is group number three and group number three bought down here and I'm going to take profits into this level because they say 'this is as high as we could go before, therefore, I'm going to lock in some profits there.' Again, this is called the top dog trading rule of three and won't even move forward a little bit more. We'll squish up the chart a little bit so you can see the big picture. This is where the top dog trading rule of three comes in. So this again was the first. So this was the first time it reached that price level one. Less likely to continue. Could it continue?
Forex Trendline Breakout Strategy
Could it go above that resistance level? Sometimes it does, but your highest probability is the third, the rule of three. And the reason again goes back to psychology because now people are saying, 'here's this price level that has lasted this entire time.' And what happens here, we gap above it, and this will be what happens sometimes when the market really wants to move. It will just gap right above that resistance level and not deal with it. So now the people that were going to take profits at it, well we're already above. So now they're thinking, 'maybe I'll stay in it because maybe this thing is going to go.' The breakout traders who are buying will, they're in and the people are going to go short. Well, they're saying, 'I don't know, this doesn't look good because we just get up above that resistance.'
So the energy is sentiment, that dynamic of what traders are doing now is completely different. Then you'll also get people who wait for which we call it the throwback and this is the throwback, goes up and retraces back down to that resistance level and then they're going to be buying there. The rule of three basically means this, when the market goes to a price level ones, that sets the stage and that's basically just planting a flag. Then number two, the second time, a little less likely because you've got a lot of traders who have mixed emotions about it. It's also less likely to break through. Could depend on rumor news and gossip, all kinds of stuff, right? Economic, situation. But as far as pure technical analysis goes, and by the way you can't, I got to be really clear about this.
Breakout Strategy Forex
This is really important. You can't just depend on support, resistance and the rule of three by itself. In fact, there's no one thing in trading. No one thing in trading that will make you profitable. What makes us profitable in trading is putting together a number of non-correlated variables and waiting for the multiple lines. Then you put this together with the other things that you used in your trading. So this would be another thing to add to your trading methodology. One more little piece of evidence if you will. So then as we break above it the third time, now, one will get above it. Again, sentiment has changed. We retrace, this is the third time that we've come to this price level and let's make sure I get the right one. So that's one, that's two.
Now the third time is the most likely it is to go. In fact, you know what led me. So now I can make this more clear. So there's the first time it reaches that price level there. The second time. Now the third time is key. This is a real decision point in this. In this case, we said yes, it went up and we said, why? If we did not get this gap, if the market just went up here, stopped and then held resistance, came down a little bit, odds are that market is not going to continue to go up outside of the market's going to come down, and again, it's mass psychology where people are saying, you know what, this whole time we've been watching this level and no, we could not get enough buyers after three times.
Forex Trading
It's kind of like three strikes you're out, but it's really just a mentality of people saying the global markets have tried to break above this price level three times and the markets have not been willing to do it, meaning the people in the institutions trading it and therefore people just aren't going to pay more. They're not going to pay more for that. So now it becomes a bearish situation. Everyone's sentiment switches to bearish, so that's the rule of three, works really good. I encourage you to look for that pattern and added to your trading methodology.
Rubber Band Trade Strategy
Now, if you liked this video, please understand that. Of course, it's free. I give away a lot of free stuff, but if you got value from this, then you actually have a moral obligation to pay it forward. Show it with other people. Click on that beautiful, lovely share button below. It gives you a warm feeling inside. He will be glad you did. You'll sleep well tonight. That's really the very best thing you can do to keep these videos coming. I like to give these lessons about once a week and he'd given away for free, but I need your encouragement to keep me going.
If you're watching on Youtube, go ahead and click the thumbs up and leave a comment. I love your comments, that's another thing that really encourages me to keep these free videos coming. And I'm going to give you one of my favorite trade strategies is it's called the rubber band trade. I'm going to give you all the rules, the filters, everything, and this trade has a very high wind loss ratio. I love this thing. I still treat it myself to this day. It's a pretty simple trade. I can teach it to you in 26 short minutes, so get that rubber band trade strategy absolutely free by clicking on that image in the top right hand of the corner of this video or in the description below the video.
If you're not watching on Youtube, there's probably a link below or an opt-in form on the side. Once you do one of those things, I will personally email the video to you with the rubber band trade strategy.
GET MY FREE MARKET ENTRY TIMING INDICATOR
BTW, if you're interested in the indicator that I use personally for very precise entries and exits. I'm happy to share that with you. Just send me an email at support@topdogtrading.com, and I'll show you how to get access to that indicator.
What did you think of this tutorial on Forex Trading Training Trading Breakout Strategy Patterns? Enter your answer in the COMMENTS section at the bottom of this page.
PLEASE PAY IT FORWARD BY SHARING THIS VIDEO & ARTICLE ON FACEBOOK OR TWITTER by clicking one of the social media share buttons.
FREE GIFT!
Also, I'm giving away one of my favorite trade strategies that works in trading the markets. Just fill out the yellow form at the top of the sidebar on the right. Once you do that, I'll personally send you an email with the first video.
Those interested in Forex Trading Training Trading Breakout Strategy Patterns video that works in today's markets also showed an interest in this video:
https://www.topdogtrading.com/support-and-resistance-trading-strategy/
Subscribe to my YouTube Channel for notifications when my newest free videos are released by clicking here:
https://www.youtube.com/user/TopDogTrading?sub_confirmation=1