Hello, my friend, and welcome to this tutorial on Forex RSI Indicator Strategy. This post discusses the Forex RSI indicator system using RSI for day trading or swing trading (also works for the stock market, futures, E-minis, and options) as a replacement for the stochastic indicator or MACD indicator. Enjoy!
Was this post/video on Forex RSI Indicator Strategy helpful to you? Leave a message in the COMMENTS section at the bottom of this page.
PLEASE "PAY IT FORWARD" BY SHARING THIS VIDEO & ARTICLE ON FACEBOOK OR TWITTER by clicking one of the social media share buttons.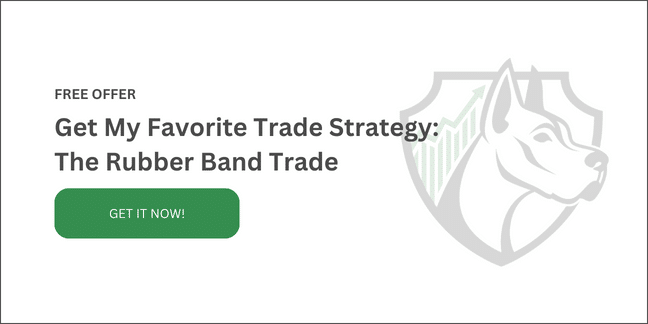 Forex RSI Indicator Strategy – Video
Today, I'm going to show you a Forex RSI indicator strategy that can be used for stocks, futures, eminis, and options. We will use Forex examples today, but this strategy is also applicable to other markets. It is one of the most effective RSI trading strategies that I have seen, and it can be used for day trading. It is a bit more advanced, I would say intermediate. We will not be using divergences, unlike what many people teach. I will explain why soon.
The RSI is a momentum indicator, just like the stochastic indicator and the MACD indicator. These are all momentum indicators, and it is important to understand this. When we talk about strength and momentum, think of a train. A train moving on the track has a lot of energy. We are looking for a sustained power, just like a train that keeps going even if the brakes are applied.
The Setup – Forex RSI Indicator Strategy
Now, let me show you how I have the RSI indicator set up. I use 14 periods, which is quite common, and I have removed the moving average that is usually associated with the RSI. I set the RSI line to red, but the color doesn't really matter. The upper and lower levels are set at 30 and 70, which is also common. However, you can use different parameters if you prefer.
The strategy is as follows: as long as the RSI indicator's red line is between 30 and 70, there is no strong momentum in either direction. We want to see the first time that the indicator hits 70, indicating strong upward momentum. This is like a train going very fast in the north direction, with a lot of energy. We don't want to trade based on the indicator alone. An indicator simply shows what is happening, it is not a fortune-teller. It is a mathematical formula that represents momentum. So, we look for other factors to confirm the strength.
Enter the Trade in the Direction of the Trend
When the indicator hits 70 for the first time, we look for a break above a resistance level. This confirms the strength. Then, we wait for a retracement back to the 20-period moving average (or your preferred moving average). This provides a support level. We want to enter the trade when the trend continues to move up with its momentum.
We emphasize the first time the indicator hits the upper line at 70 because we want to enter as early as possible into a new trend. Professional traders always enter early, while amateur traders enter late. Taking the first signal allows us to potentially catch a long-lasting trend. However, not all signals will continue for a long time, so risk management is important.
Risk Management is Key – Forex RSI Indicator Strategy
Now, let's look at a different scenario. Sometimes, the indicator hits the lower line at 30, indicating downward momentum. In this case, we don't have a clean setup like before because we have already broken a support level. However, we can still trade this setup. We wait for a retracement and look for a bearish candlestick pattern as an entry signal. We can also look for a previous support level that has been broken and retraced back to. In this case, we may need to look further back in history to find the support or resistance level.
Remember, this is just a three-step strategy that can be combined with other indicators and tools. Don't rely on just one indicator for your trading decisions. Also, make sure you have a solid risk management and money management plan in place.
Wrapping Up!
If you found this video helpful, please let me know in the comments. Leave a like, and also please share this content with others.
Free Offer!
And finally, I am offering one of my favorite trade strategies called the Rubber Band Trade. Absolutely free. And I want you to go and make some money. Try before you buy, or well, actually try and never buy because there's no charge for this trade at all. And I'll give you the setups, the exits, all the rules for it. It's an objective rule-based method based on price pattern action that I don't think anyone else teaches.
I've never seen anything else teach this particular price structure. So go get that by clicking on the green icon in the top right-hand corner of the video there, and that'll take you to a page where you can opt-in, get the video for the rubber band trade strategy, along with some other great free tutorials, one of my little mini-courses, absolutely free, courtesy of Barry Burns here at Top Dog Trading.
GET MY FREE MARKET ENTRY TIMING INDICATOR
BTW, if you're interested in the indicator that I use personally for very precise entries and exits. I'm happy to share that with you. Just send me an email at support@topdogtrading.com, and I'll show you how to get access to that indicator.
What did you think of this Forex RSI Indicator Strategy tutorial? Enter your answer in the COMMENTS section at the bottom of this page.
PLEASE PAY IT FORWARD BY SHARING THIS VIDEO & ARTICLE ON FACEBOOK OR TWITTER by clicking one of the social media share buttons.
FREE GIFT!
Also, I'm giving away one of my favorite trade strategies that works in trading the markets. Just click on the button below, and I'll personally send you an email with the first video.
Those interested in this video of Forex RSI Indicator Strategy that works in today's markets also showed an interest in this video:
https://www.topdogtrading.com/day-trading-basics-part-1/
Subscribe to my YouTube Channel for notifications when my newest free videos are released by clicking here:
https://www.youtube.com/user/TopDogTrading?sub_confirmation=1