Everything in the market is relative.
Is the market in an up trend or a down trend?
It may depend on the time frame you're viewing. On a daily chart perhaps a given market may be in a down trend, but that same market could be in an up trend on the weekly or monthly chart.
Also …
Which "market" are you talking about? There is no "the" market any more.
Most people (God only knows why) are referring to the DOW when they ask "So, what's the market doing today?"
But the benchmark used by most professional traders I know is the S&P 500.
But even that is starting to fade a bit as markets in other countries and in specific sectors have gotten very exciting and much more accessible to retail traders.
This is great because as one of my teachers used to say,
"There's always a raging bull market somewhere."
And the opposite is also true: "There's always a raging bear market somewhere."
Never before have investors had access to so many markets that do not necessarily have a high correlation with the U.S. stock market.
The advantage is that it provides many more opportunities. However, you must also be a skilled trader/investor to take advantage of those opportunities … and unfortunately most people will fail at that attempt.
Still, for the properly trained, the opportunities are wonderful, primarily through the dazzling diversity of Exchange Traded Funds (ETFs) which open up the markets of countries around the world, commodities, currencies, sectors and industries.
It's no secret that the technical picture of the S&P on the daily chart (shown below with the 50 MA) has been rather bearish to say the least: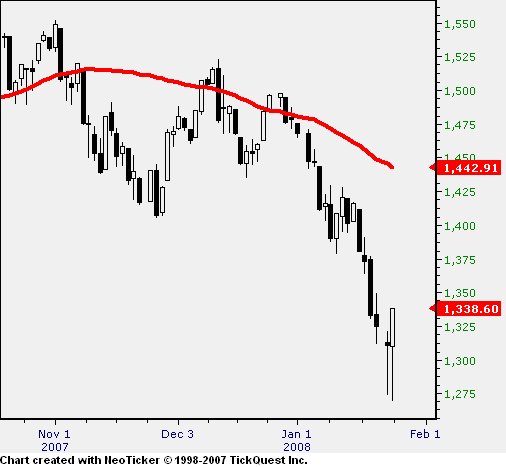 So everyone has been complaining that "the market" is terrible.
But there's always a bull market somewhere … if you're willing to be a little flexible.
Lately the agricultural market has been very bullish. Below is a daily chart with the 50 MA of DBA which is the PowerShares Agricultural ETF: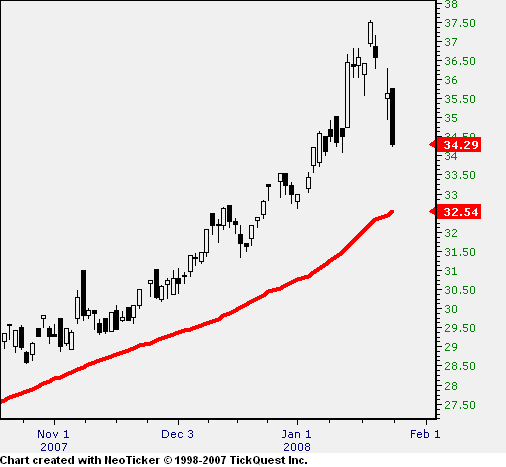 Not bad!
You could also look at other Exchange Traded Funds such as FXF (Swiss Franc) or PTJ (Health Care) which have been going up nicely while the S&P has been tanking (though these markets have had dramatic sell-offs as the US equities are trying to bounce).
As a trader I'm always looking for opportunity, and that means being flexible. I watch all the major markets to find the best trading scenarios at any given time.
There's no easy way to do this, and of course an opportunity today can turn sour tomorrow. But when you do catch the next great bull market, you can enjoy a long and very profitable ride!
For more information about ETFs you may want to visit the following links:
http://www.thestreet.com/_tscnav/etf/index.html