By popular demand, I'm doing a two-part series on the VWAP indicator trading strategy. VWAP stands for volume, weighted, average, price. It's a benchmark that can be very useful in your trading, as it's adding up the dollars traded for every transaction, multiplied by the number of shares traded. You can also use this in place of moving averages.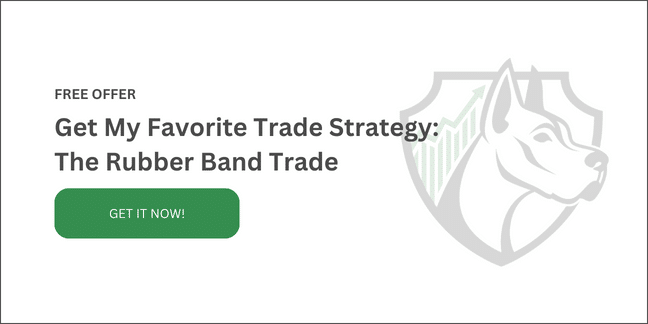 VWAP Indicator Trading Strategy
What we have on this particular chart, (see video) is the way I have it lined up here. This black line is actually the volume weighted average price, or the VWAP Indicator. By incorporating volume into it, you can see that it's not only an average of price, but energy, volume, and the weight of the price action. I consider it kind of a neutral zone, and that's why I use the term fair value. That's not how it's technically defined, but to me fair value makes sense.
Anything below that black line would be bearish, and anything above it would be bullish. Let me bring up the indicator and show you how I've got it set up on my charts. (See video for set up) The black line is our actual volume weighted average price (VWAP) so, that is our line in the sand, between a bull and bear market. The lines always start out together, because it's gonna be recalculated at the beginning of every day. It's really important that you have this loaded before the market starts.
VWAP Indicator Signaling Trend
One way of trading this if you're looking for a trend trade, is to look for the VWAP Indicator to be going up, and price to be above it. The best case scenario is for it to stay in this standard deviation range, just like it does right now. That is a nothing but net trend, to use a basketball analogy. It's not coming back to the volume weighted average price. The markets come back to a neutral sentiment and if you want a continuous trend, well, you don't want it to come back to neutral. Then you've lost your trending.
Now some people still do that and use it as a support/resistance level for bearish markets, and that's okay, if you use other things along with it. I'm just saying that for me in my house, when we're looking for a sustainable trend, and I feel much more confident if it stays between these standard deviations. The famous saying, cut your losses short and let your winners run, is another way of not getting freaked out during neutral parts of market action, and still having an established sentiment based on logic and a rule-based method.
If you found this video helpful, please give it a thumbs up. I don't charge for these and I don't run advertising in my videos so these do not generate income. I do them for you, so the best thing you can do is to pay it forward to somebody else by sharing the video. If you have any requests for future videos, like I said, this one is in response to requests, so feel free to type your video request in the comments below.
Free Offer!
It's good to share good things with good people. I have a very specific trade strategy that I want to share with you all the details of my Rubber Band Trade Strategy. It's one of my favorite trade setups that I take all the time to this day. It still works, been working for decades. And I'm happy to share with you all the rules, the entries, the exits, all the details of it.
It's about a 26 minute video that I will give you absolutely free. Just go ahead and click on the link in the top right-hand corner of this video or the link in the description below. As soon as you do that, I will email to you the Rubber Band Trade Strategy.
What did you think of this Williams R Indicator tutorial? Enter your answer in the COMMENTS section at the bottom of this page.
PLEASE PAY IT FORWARD BY SHARING THIS VIDEO & ARTICLE ON FACEBOOK OR TWITTER by clicking one of the social media share buttons.
FREE GIFT!
Also, I'm giving away one of my favorite Best Moving Average strategies that works in trading the markets. Just fill out the yellow form at the top of the sidebar on the right, and I'll personally send you an email with the first video.
The Best Moving Average video that works in today's markets.
Subscribe to my YouTube Channel for notifications when my newest free videos are released by clicking here:
https://www.youtube.com/user/TopDogTrading?sub_confirmation=1