Protecting against losses with a trailing stop Forex strategy is absolutely critical for successful trading. Traders tend to focus on how to make money, which is great. Equally important is to protect against losses.
In this video, you'll get a trading stop strategy that will help you "keep your losses small and let your winners run."
Was this video on Trailing Stop Forex Strategy helpful to you? Leave a message in the COMMENTS section at the bottom of this page. 
PLEASE "PAY IT FORWARD" BY SHARING THIS VIDEO & ARTICLE ON FACEBOOK OR TWITTER by clicking one of the social media share buttons.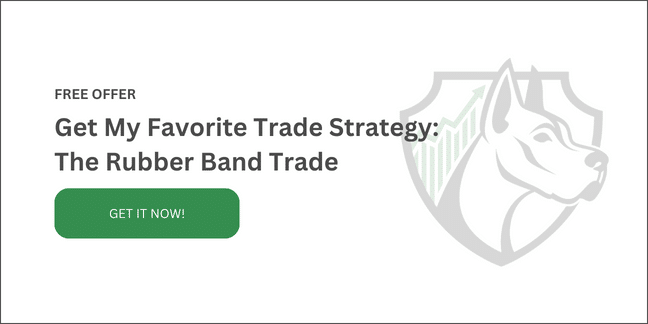 Trailing Stop Forex Strategy
Welcome to this video on trailing stop forex positions where we're going to analyze once you get into a trade, where you should place your trailing stop – your initial stop, protective stop whatever you want to call it. With my trading method, when the 50 MA start angling up, I consider that we are in a potential uptrend. That's an uptrend indication.
By the way, all these are indicators and indicators do what they promise. I mean the answer's in the question, what do they do? They indicate! No indicator is a money maker. Therefore, you cannot rely on any one indicator to make you money. It's a piece of evidence is what it really is. Right now, what I would do in a situation like this is to potentially look for a first wave low. I count waves differently than they do an Elliot wave.
If you want my cycle indicator and how I measure these waves and these cycles and so forth, happy to give that to you for free and send me an email at support@topdogtrading.com. I am also doing webinars once or twice a week where I give away that indicator absolutely free. It works on any trading platform and you get a tutorial with it on how to trade it and you can take it and integrate it to whatever training method you're using, if you'd like. No charge for that.
Trailing Stop Forex
Cycles are like the respiration of the market, the inhale, the exhale. Markets sometimes ll go straight up or straight down, especially based on news and even gossip or rumors sometimes. Price structure has everything to do with where we place our stops, our initial protective stop as well as our trailing stops. Number one is your protective stop goes where you're wrong.
Forex Trailing Stop Strategy
That's the general rule. You might want to write this down – stops go where you're wrong. What do I mean by that? There's always a reason that we take a trade. So, whatever the reason is in your methodology, then if that reason for entering the trade no longer exists, then your trade should no longer exist. Your protective stop or your trending stop for that matter should always be placed at a position on the chart where the structure for the reason of you entering the trade has been broken, has been violated. So that to me is the basic rule where you place your stops.
You've heard the saying the trend is your friend until the end, right? And some people think the lesson from that is just a trade with the trend. Again, that's a half-truth. In fact, The second half of the sentence is the most important half of the sentence – until the end.
What that's really instructing us to do is trade early in a new trend. The longer the trend goes, the less likely it is to continue. Therefore, I'm always looking for the first cycle low after the confirmation of an uptrend. As long as that trend is going up, we're good.
How to Use Trailing Stops
No one can predict what the market's going to do all the time. That's impossible. No one's ever done it. Nobody ever will do it. I don't care what you hear. And that's why we don't predict the market. I hate when people say, how do we predict what the market's going to do? No one has a crystal ball. This is all about mathematical probabilities. And that's it, which is exactly why we have to keep our stops in our protective stops and our trailing stops. I would just keep my stop a below these wave lows. And then once I get up here to weigh five, what I would do is look for a momentum shift.
Trailing Stop Explained
I don't really want it to break the low here, right? This is our structure that I was talking about and so that's my protective stop. I don't want the market to break the structure for the reason that I got into the trade, it gets close but it doesn't provide support and we're golden. So this will be my initial protective stop right here. The reason I got into the trade is, remember the place your stops go, as long as the reason continues to exist for getting into the trade, keep your trade on, we want to keep our losses small. But we want to let our winners run as well. You don't want to get out too soon and we allow for the market to go from low volatility, which is what's happening here.
Rubber Band Trade Strategy
I'm not asking for any favors, but if you found this video or my channel as a whole valuable, then please go ahead and click the share button. That's actually the best thing you can do to move the videos up in the ratings so that other people can see them and get value from videos on my channel. Not only this one but all of them. Also, click on the thumbs up icon. Love it when you leave. Comments that really encourages me to create more free tutorials for you and I've got a Freebie for you today, a big freebie and that is my rubber band trade, so I'm going to give you an actual trade set up with all the rules, all the conditions, everything absolutely free and let you try it out on me.
So do it with paper money first obviously, but it's called the rubber band trade. I will send you a video for it. It's a 26 short minutes or it's a really simple trade, but it has a very high win loss ratio. And you can get that by simply clicking on the image in the top right corner of this video or in the description below the video. Or, if you're not watching this on YouTube, then there's probably a link below or an opt-in form on the site or somewhere. Anyway, why don't you do that? I will personally email the video to you with the rubber band trade strategy,
GET MY FREE MARKET ENTRY TIMING INDICATOR
BTW, if you're interested in the indicator that I use personally for very precise entries and exits. I'm happy to share that with you. Just send me an email at support@topdogtrading.com, and I'll show you how to get access to that indicator.
What did you think of this tutorial on Trailing Stop Forex Strategy? Enter your answer in the COMMENTS section at the bottom of this page.
PLEASE PAY IT FORWARD BY SHARING THIS VIDEO & ARTICLE ON FACEBOOK OR TWITTER by clicking one of the social media share buttons.
FREE GIFT!
Also, I'm giving away one of my favorite trade strategies that works in trading the markets. Just fill out the yellow form at the top of the sidebar on the right. Once you do that, I'll personally send you an email with the first video.
Those interested in Trailing Stop Forex Strategy that works in today's markets also showed an interest in this video:
www.topdogtrading.com/scanning-for-high-volatility-trading-strategies-the-counterintuitive-way/

Subscribe to my YouTube Channel for notifications when my newest free videos are released by clicking here:
https://www.youtube.com/user/TopDogTrading?sub_confirmation=1