The Pin Bar Candlestick Pattern Trading Strategy works great BEST when traded in this overall market context.
Was this video/post on Pin Bar Candlestick Pattern Trading Strategy helpful to you? Leave a message in the COMMENTS section at the bottom of this page. 
PLEASE "PAY IT FORWARD" BY SHARING THIS VIDEO & ARTICLE ON FACEBOOK OR TWITTER by clicking one of the social media share buttons.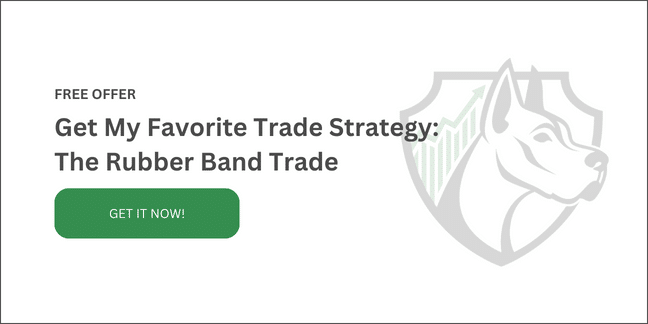 Hey my friend, Barry Burns here with Top Dog Trading.com, and today we're gonna talk about Pin Bar Candlestick Patterns. This can be used as a treating strategy for Forex, Stocks, Futures, really anything that you can plot on a chart.
Pin Bar Candlestick Pattern
Here's how I define a Pin Bar, it has to be a wide range bar, and that means more than average. The range of the whole bar from low to high must be more than average, and we can quantify this. In the real body – it's always the difference between the open and the close. In this case since it's red, that means it opened here, and it closed down here. The width, or the range of the entire bar must be wide range, but the real body must be narrow range. It's got to be at the bottom of the range.
I'm looking back 40 periods, in other words, 40 bars. Whatever your time interval is here's where the range comes in. I want the range of that bar to be 120% or more of the range of the last 40 bars on average. Then what I've set is the open and the close, the real body, I want it to be within the top or the bottom, 70%, or top or bottom 30% of the bar. That's how I've decided to set it up, and find it to be very effective.
What you want to do here it's very important is the context of the entire chart in which you find the Pin Bar. This is everything! Do not think you can just trade pin bars all day long and make money. You cannot and will not, so here's another pin bar example that happens to be a doji. Again, you don't really need the open and close to be far or even separate from each other. They can be equal to each other. There's another doji, so we've got three pin bars here now, let's analyze all three of them real quick.
Pin Bar Candlestick Strategy
This occurs in a sideways market. You can see we've got a lot of doji's, but would you want to trade that? No. Why? There's not a good enough reward to risk ratio because we don't have a direction in the market. It'd be a bullish, Pin Bar just looking at the one bar, but it can't just look at one bar we're in a narrow range. Before you use these patterns, you want to use support, resistance and direction to know what the trend of the market is.
Here we get another pin bar, and this one does indeed put in a swing low, but now we've broken out of that range. It goes up and just kind of go sideways again, but if you took that trade okay, at least you get some money. Here's another example. We've got a bearish Pin Bar, and we've made a move up, but now we're just moving sideways. So, nope, not gonna take that signal. You need to look for these only within a certain context.
The very first thing I look for in trading is the direction of the market. Here we're early in a new down move. So the last thing I want to do early in a new down move is to buy.  To me that bar means nothing at only one bar pattern. Take this as one piece of evidence and in trading we're always putting together pieces of evidence. When we get a confluence of a number of uncorrelated variables. That's what gives us a probability scenario, and that's what we will trade, never one thing in isolation. 
Wrapping Up!
Here's an example of my favorite context in which to trade this. You see that we have been below the 15 EMA, now we're above the 15 EMA, just using that as an example. You want to trade it early in a new uptrend and have a confirmation from it. I like to get in early in a new trend and look for this as a continuation pattern early in a brand new trend. The best place for me in looking for these bullish or bearish Pin Bars is bullish in a new uptrend, or your bearish Pin Bar in a new downtrend.
If you liked the video, please give a nice thumbs up and leave comments in the comment section below. In fact, I really cherish your comments. If you have any suggestions for future videos, I'd be very happy to take those into account. I actually make a list of all the suggestions that come in, and that helps me help you. One of the best things you can do is to pay it forward.
Free Offer!
It's good to share good things with good people. I have a very specific trade strategy that I want to share with you all the details of my Rubberband Trade Strategy. It's one of my favorite trade setups that I take all the time to this day. It still works, been working for decades. And I'm happy to share with you all the rules, the entries, the exits, all the details of it.
It's about a 26 minute video that I will give you absolutely free. Just go ahead and click on the link in the top right-hand corner of this video or the link in the description below. As soon as you do that, I will email to you the Rubberband Trade Strategy.
What did you think of this Pin Bar Candlestick Pattern Trading Strategy? Enter your answer in the COMMENTS section at the bottom of this page.
PLEASE PAY IT FORWARD BY SHARING THIS VIDEO & ARTICLE ON FACEBOOK OR TWITTER by clicking one of the social media share buttons.
FREE GIFT!
Also, I'm giving away one of my favorite Best Moving Average strategies that work in trading the markets. Just fill out the yellow form at the top of the sidebar on the right. Once you do that, I'll personally send you an email with the first video.
Those interested in this Pinbar Candlestick Strategy video that works in today's markets also showed an interest in this video:
https://www.topdogtrading.com/best-trading-indicators-day-swing-trading/
Subscribe to my YouTube Channel for notifications when my newest free videos are released by clicking here:
https://www.youtube.com/user/TopDogTrading?sub_confirmation=1