Was this video on Moving Average Trading Strategy helpful to you? Leave a message in the COMMENTS section at the bottom of this page. 
PLEASE "PAY IT FORWARD" BY SHARING THIS VIDEO & ARTICLE ON FACEBOOK OR TWITTER by clicking one of the social media share buttons.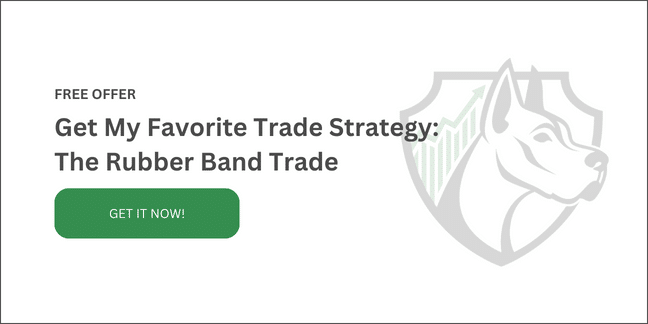 Moving Average Trading Strategy
Welcome to this tutorial on Moving Average Trading Strategy.
We'll be using two moving averages. The two moving averages that we'll be using today are the 50 period simple moving average, and the 15 EMA. One five exponential moving average, which is my black line. I use the 50 period simple moving average as an intermediate trend indicator. How do I use the shorter term moving average? How do I use this 15 EMA in Forex Day trading?
By the way this will work with Stocks, Forex futures, Commodities, Emini, Swing trading, and Day trading. It's a relative strength type of dynamic and the energy of money flow. Therefore, It'll work on any time frame because it calculates relative to whatever bars you have, and whatever market data you have on your chart.
Moving Average Strength Down
Here's the basic thing we're looking for, or the Meta pattern if you will.
In a downturn like this, we are looking for strength down, weakness up. Strength down, weakness up, strength down, as we have these oscillations. If we want to be short the market, be bearish, then I want a lot of strength to the downside. What I mean by strength, I mean literally what I mean by strength is well…
When I was trained at the Chicago Mercantile Exchange, I met a floor trader who agreed to train me down to five figures in his living room. He was recommended to me by my broker, who actually their trading floor was in the CME building. This was their top trader who then became their trainer. I went and got an apartment out there and this is one of the things that he shared with me. Just this the simplest things you know? Sometimes the simplest things are the best, and that's what I have found in trading, as well as a lot of areas of life.
We want to go with the dominant energy.  What's happening here very simply is, we would be looking out on the exchange floor and you can kind of see who's in the pits, I mean they'd wear their colored jackets and their patches and all that kind of stuff. You want strength down, meaning lots of energy in the sense of orders coming in fast. Big orders, we want to see the big players, the big money, coming in and selling. Then when the market retraces back up, we don't want to see a lot of strong buying. Either it's just a little profit taking down at the bottom, and maybe a little retail,  meaning amateur buying here, but not professional buying.
Moving Average Weakness Up
The bottom line I just wanted to show you, that this is the Meta Pattern right here that we're looking for. Strength down, weakness up, strength down, weakness up. What we're gonna be doing here with a 15 EMA is putting a line in the sand for weakness up. What I mean by that is, here we've got a strong move down that breaks through support. By the way, notice we've got two support levels here, these are just from previous major swing lows. What causes the market to go through support like it does here, like slices right through doesn't even acknowledge its existence?
It's going to be a strong market move, velocity of orders in volume. When you get that kind of strength, that's what pushes it down through, and south of support. If you didn't have strong water flow to the downside it would probably bounce back up. When it comes up now, look how it doesn't come up very far. Actually, I wanted to use my arrow there. That's alright I can you both. You know what? Let's use the arrow so you can see the price bars better.
We want strength down. I'm putting my 15 EMA here as a relative strength indicator. You could think of it as a type of dynamic resistance if you want to, and that would be accurate, but even more specifically it's a type of dynamic resistance to measure the relative strength of the retrace, the move up. I don't want it to get above the 15 EMA, because if it does then what does that signal? That signals that hmm, okay, now if this low we would be getting some strong buying. If we're short and we want to hold on to this position, you know for the whole trend, then we don't want strong buying against our short position.
We don't want Goldman Sachs, Merrill Lynch, and Citibank coming in and buying, while we're going short. I think that's pretty obvious. We want to be trading with the smart money. 'Go with the flow' as they say, and you know go with the flow is a common phrase they talk about in life, and managing your life. It's a good one, but it applies equally well to trading. Go with the flow, swim downstream, why swim upstream? This is what I see amateur traders doing over, and over, and over, and over. I'm gonna take this off make some new ones here.
Moving Average and The Trend
The bottom line is we want to trade early in the direction of the trend for our moving average strategy. When we see so, when we're trading bar by bar, each time this goes down and retraces we say, "Okay, how far does it retrace? How much buying is coming against our selling position?" As long as it holds the 15 EMA I'm comfortable. In other words, this comes into the slogan of well, we talked about, 'the trend is your friend until the end' right? So, we trade early near new trend.
Another famous slogan regarding a moving average trading strategy is, 'catch your losses small and your winners run'. We want to let our winners run and one of the ways we do that is to say, "Okay, as long as this thing stays below the 15 EMA, I'm golden." The dominant energy is still down. so another big impulse move down, a relatively weak retrace up. Another big impulse move down, well it's definitely a weak retrace, I can't speak anymore, a relative weak retrace up. That's actually kind of a tongue twister, relative weak retrace, okay yeah the R's and the W's. Then it comes back down makes a lower load now look it gets above up, so it's going off the screen there I can see, so a couple things on this.
First of all when we're in a wave five, wave five is the average trend the way that I count them. I'm not using Elliot waves, I'm using what I call Barry waves for lack of a better term. See now we're extended in the trend. We're no longer early in a new trend, and the trend is our friend until the end. I actually would not be interested in shorting that anymore just because we are extended in the trend, just purely for that reason alone.
The point for today's lesson is that once it gets above the 15 EMA, then that trend is over it does end. We've got strong buying, actually would go all the way from that low to that high, so now we got strong buying. We break above that high and why would I want to be short when we've got energy to the upside? I wouldn't, alright so that's how you use the 15 EMA. If you want to use a couple of different moving averages that's fine. These are the two that I use, and it's the principal that really matters more than anything else. A lot of people use the 20-period moving average. Some people use a nine and if you have a favorite that's fine, but using two moving averages together like this, and using one as a relative strength indication for retraces, is really the point.
Wrapping Up
One other point here too that's really important is that timing these, knowing exactly where these are going to come in is really important, so I do have a timing indicator I'd be happy to share with you. Depending on when you listen to this video, since these YouTube videos can stay up for years. I have a timing indicator that catches these cycle highs, and lows with just amazing accuracy, and I'll be happy to share that with you. I do sell it, but if you're well, you are a YouTube viewer obviously, so just mention that. Send an email to me at Barry@topdogtrading.com and request the cycle indicator for free! I'll show you how to get that absolutely free, no charge, and with the tutorial as well. Just send an email to Barry. There's no opt-in page for this or anything, it's just Barry@topdogtrading.com.
GET MY FREE MARKET ENTRY TIMING INDICATOR
BTW, if you're interested in the indicator that I use personally for very precise entries and exits, I'm happy to share that with you. Just send me an email at Barry@TopDogTrading.com, and I'll show you how to get access to that indicator.
What did you think of this tutorial on Moving Average Trading Strategy? Enter your answer in the COMMENTS section at the bottom of this page.
PLEASE PAY IT FORWARD BY SHARING THIS VIDEO & ARTICLE ON FACEBOOK OR TWITTER by clicking one of the social media share buttons.
FREE GIFT!
Also, I'm giving away one of my favorite Moving Average Trading Strategy strategies that work in trading the markets. Just fill out the yellow form at the top of the sidebar on the right. Once you do that, I'll personally send you an email with the first video.
Those interested in Moving Average Trading Strategy video that works in today's markets also showed an interest in this video:
https://www.topdogtrading.com/real-life-trading-vs-popular-myths/
Subscribe to my YouTube Channel for notifications when my newest free videos are released by clicking here:
https://www.youtube.com/user/TopDogTrading?sub_confirmation=1