TOP DOG TRADING SYSTEM COURSE #1: CYCLES AND TRENDS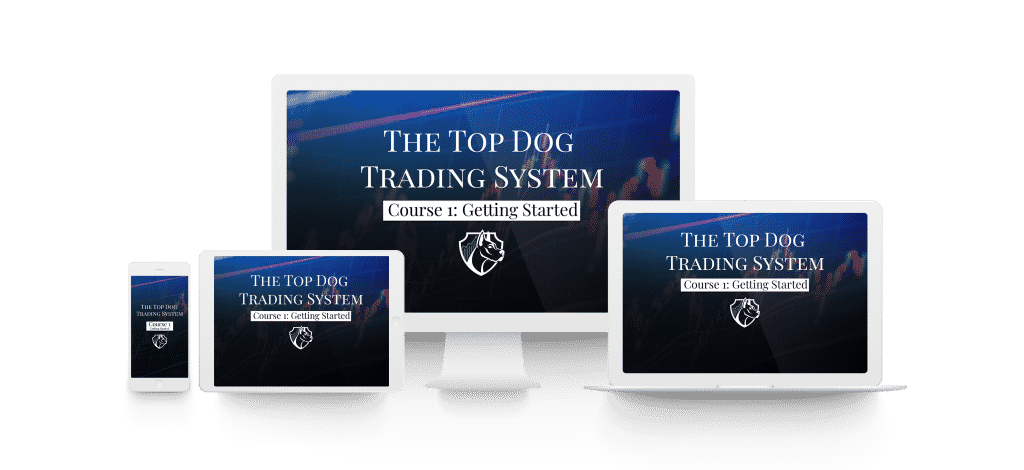 My first trading course gives you the basics of my methodology and provides the foundation for all of my more advanced techniques taught in later courses.
In this course you'll learn about 2 of the "energies" we trade: Trends and Cycles
You'll learn how to identify new trends early in their development, and enter on pullbacks based on cycle tops and bottoms.
Many people struggle with identifying the best TIME to enter trades. Professional traders often comment that amateurs are "right … at the wrong time."
This course teaches you how to time the market with Swiss Clock precision so you can trade confidently.
You'll also learn about price "structure" which will bring new clarity to your understanding of charts so that you can read them as easily as a road map.
In this course you will learn:
How to look at any chart and instantly "see" the current market situation with crystal-clear understanding.
The best, EXACT place to enter (within 1 penny, tick or pip). Objective, clear and simple. No complicated calculations or guessing.
The best, EXACT place to exit (within 1 penny, tick or pip).
How to finally feel CONFIDENT about your entries and exits.
The approach is so laser-beam precise that we never risk more than 1-2 bars!
This course is a complete trading method unto itself including all the rules, filters and money management parameters. This approach uses extremely tight stops and looks to lock in fast profits.

The method is "universal" for trading any market or time frame that has reasonable trading volume and tight spreads:
Can be used for Day Trading, Swing Trading or Investing.
Can be used to trade Forex, futures, commodities, ETFs and individual stocks.
Can be used with most any charting software since no fancy or proprietary indicators are required.
Can be used to go long or short.
Is a universal method that adapts to most markets and time frames.
3 SPECIAL ADDITIONS TO THE COURSE:
When you order Foundations Course #1, you will receive these 3 extras:
1. A Manual that covers the Psychology of Trading.
2. A video that helps you create your own simple, but effective trading plan.
3. A video that gives a real-world solution to becoming a successful trader once-and-for-all.
These videos will go into depth to teach you in PRACTICAL TERMS how to:
Trade with confidence.
Absolutely prove this trading method to yourself before you risk 1 cent.
Keep your stops.
Identify your own personal trading weaknesses and change them forever.
Deal with your fears about trading once and for all.
These unique videos (and the practical exercises that come with them) employ the EXACT techniques that Dr. Barry Burns uses for himself and his students.
These videos don't just tell you "what" you should be doing Trading Psychology(which you probably already know), but they show you HOW to make the changes in your trading psychology and behavior … once and for all!
2 MORE ADDITIONS TO THE COURSE: LIVE TRADING!
These 2 videos are a newer addition to this trading course and specifically focus on the trades taught in Course 1.
Watch Dr. Barry Burns trade "live on tape."Live Trading
Live trading allows you to see things that can't be seen with static, printed charts. Watch how things evolve as the market moves:
Exactly how to enter the market with pinpoint accuracy.
Where to place your initial stop (never more than 2 bars from your entry).
Exactly how to use a trailing stop … accurate to the tick.
How to trade "complex" patterns and why they're more reliable than simple trend – retrace- trend patterns.
Detailed explanation of the best support/resistance levels.
When to expect support/resistance to hold, and when to expect it to fail.
Many extra lessons not contained in the videos or manual of Course #2.
These trading videos will demonstrate in real-time how to apply the trading method to a market as it evolves bar-by-bar.
Although these live-on-tape videos demonstrate day trading, they are excellent for swing traders as well since the exact same trading rules apply to swing trading. By watching the day trading videos you get more examples of trades in a shorter-period of time.
There is a lot of true extra information in these videos that is not covered in the course as Dr. Burns reveals some more advanced techniques to you during the live trading session.
Foundations Course #1:
– Full Color Manual
– 4 Videos
Trading Psychology and Trading Plan:
– Full Color Manual
– 2 Videos
Live Trading:
– 2 Videos
How to set up your charts on the most popular charting platforms:
– 6 Videos
Members Only Area on Web Site:
– FAQ Section
Follow-up email support for your individual questions regarding the course material.
2 Full-Color Manuals
14 Videos
Follow-up email support for your individual questions
ENJOY THE COURSE JUST MINUTES FROM NOW!
You will have instant access to the entire course and the newest additional training modules from the Members Section of my web site.
3 MONTH GUARANTEE:
Enjoy my 90 day no-questions-asked 100% money-back guarantee. Back test it or paper trade this method on any market and any time frame for 3 months and prove it to yourself!
Internet Price: $497