After a surge in energy to the downside, the S&P completed it's A, B, C pattern and has now made a Higher High.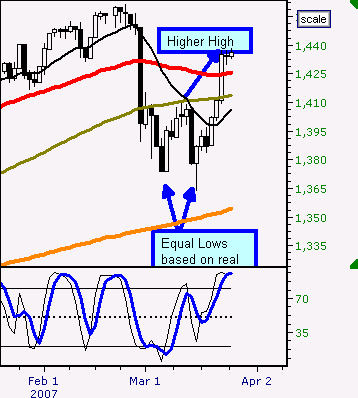 Technically it made a Lower Low as well, but looking at the real bodies of the candles, it's clear that the market rejected a Lower Low, put in a Spike Bottom Reversal Bar, and then broke the previous Cycle High.
The big move down put us into Bearish territory on my broad market indicator. However, that Bearish reading would not be confirmed unless the market stayed in that territory on the way back up. It has failed to do that, and it's right back into Bullish territory again.
There is no Trend in the S&P right now. The 50 MA is flat and instead of having a Higher Low and Higher High, we have an expanding triangle, which is a consolidation pattern (not to be confused with a contraction pattern).
The move off the bottom on the Daily Chart is a bit parabolic in nature, just as the move down was. From a technical point of view, it wouldn't be surprising to see the market go all the way back up and test the February High.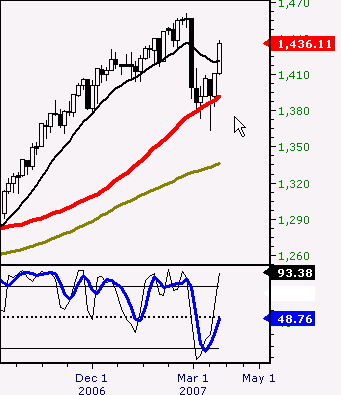 Seasonal issues:
May is coming soon – a time when conventional wisdom advises to stand aside.
The up move started in July which is earlier than usual (late October is the "conventional wisdom" time to buy the market). So perhaps the up move could end earlier than May, though it is looking good for now.
It's the third year of the presidential cycle, which is most often a very bullish year.
I've also included a 3-Day Chart (each bar represents 3 days) which is better than a Weekly Chart when looking for confirmation of the indicators on a longer term time frame. You can see that we're likely putting in a Cycle Bottom here and still have a ways to go, so it wouldn't be surprising to see this carry into April and even beyond.
Watch the next Cycle High and Low for clues, and keep your eye on the 50 MA!
You can click on the charts to make them larger for easier viewing.