Best Moving Average Trading Strategy: This video (and article) will explain moving averages and give you the best moving average strategy for day trading and swing trading.
Was this video on Best Moving Average helpful to you? Leave a message in the COMMENTS section at the bottom of this page. 
PLEASE "PAY IT FORWARD" BY SHARING THIS VIDEO & ARTICLE ON FACEBOOK OR TWITTER by clicking one of the social media share buttons.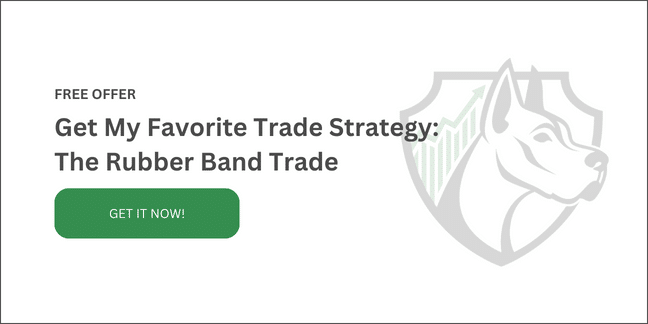 Best Moving Average
What I have put out here now as you can see in the upper left-hand corner are 20-period moving averages. We're comparing here the simple moving average and the exponential moving average. The black line is the exponential and the red is the simple. So as you can see, the red line, simple moving average, is lagging behind the exponential. That's because the exponential moving average gives more weight to more recent price data.
The simple moving average calculates the average over the last 20 bars with an equal weighting. So a lot of people say, "Well, hey, I want a indicator that's really fast and that can make a lot of sense". You might think that's what you want but, on the other hand, there's times when you don't.
For example, if you're using it for trend, you could say, "Great! Okay, let's look for a move to the downside". Here, we get the black line moving down and then we get them moving up a little bit because it's so fast. But does the market continue moving down?
Moving Average Trading Strategy
If you're going to use a moving average for trend, then you don't want to use one that is too fast because you will not be measuring trend by definition. And this also is one of the reasons why you may want to use a more lagging indicator as well because it will keep you into trends longer.
The faster indicator will get you out sooner and not always when you want to get out. So one of the problems people have is they say, "Hey Barry, I get into trades and I have a hard time staying in them for the full move". One of the reasons is you're using too fast of an indicator thinking you want a really fast indicator.
But for staying into a long-term move, it is not appropriate. The blue line, the home moving average, it kind of, well, it definitely is not great for trend because that is not a downtrend, that is not an uptrend, and so on.
Moving Average for Cycles or Waves
But what it is not bad for are cycles or waves. It could be used in that capacity. So that is one of the ways that this could potentially be used – up, down, up, down, up, down, and I think you can see. Now, that's another potential use of a moving average that has particular characteristics. Hull is one of the better ones I would say for this particular purpose. I don't personally use it for that, I find that it's actually a little slow. But, as far as cycles, it's not really a fast cycle indicator, it's a slow cycle indicator.
Moving Average as Trend Signals
But then what happens too is when you make things really short, then they can become noisy at certain times in the market. And then that really doesn't become very helpful. So remember what moving averages are. Now, they can provide several different purposes. One here like a cycle and other one is support resistance levels, another one is trend signals. But let's be very clear that there's nothing magical about moving averages.
They are literally just mathematical equations that are calculating the average. There'll be a certain number of bars based on various weighting of the data, nothing magical about that. For this reason, they're always lagging indicators because they're calculating averages of past. Most that are medium term to long term can work fairly well and trending markets but not so well in non trending markets.
So in non-trending markets, they can actually give you a lot of false signals – think you might have a trend that never develops. And here's the problem, markets these days, they don't trend most of the time. Trading is more challenging that it used to be back in the days of yore. So two points here to finish off a cautionary tale. Number one, don't get too enamored with them and there is no best moving average.
Simple Moving Average
On the positive note, however, which ones do I use since I title this the best moving average, what do I consider the best ones? First of all, I feel that they do have merit and I do use them purely as a self-fulfilling prophecy. In other words, the moving averages that I use are the ones that most people use. Nothing magical about that, right? That's just mass psychology, that's all it is. Now, a lot of people say to me, they dismiss it and they say, "Well, it's just the self-fulfilling prophecy". Well, don't say just self-fulfilling prophecy, why do you think markets move? Based on people's perceptions.
So if a lot of people see the same thing such as moving averages, then they're going to respond to it, that's what makes market move. It's not a "just", it's, of course, that's "why". So that's an important thing to acknowledge, first of all. Then, of course, the second part of that is, well, if that's true then what are the most commonly used moving averages. The three most common moving averages that are used on daily, weekly and monthly charts. I want to qualify that, are the 50 period simple moving average, the 100 period simple moving average and the 200 period simple moving average.
Wrapping Up!
Here they are and, again, finding the best moving average trading strategy is not just used for trend, so the red line, by the way, let me spell these out here, is the 15, the brown line here is the 100, and n the magenta line is the 200. They are used as support resistance as well. So if you notice, the market comes down here to the 15, balances off a little bit. Then when it decides to break through the 50, where does it go? It goes to the 100, comes off the 100, goes back to the 50, comes back down here. It pinball's a little bit after it breaks through there, it actually drops down to the 200, stops there comes back, to the 50. Then it pauses, gaps through the 100, comes back up, retraces to the 100 and goes back up.
That's the primary way that I use these three moving averages is for support resistance. I call it dynamic support resistance – dynamic because these are not just horizontal set prices, they curve. And I find this very reliable. I have seen this for years and years. So hopefully you enjoyed this video, got a little bit out of it. If you did feel free to leave a comment below. Give it a thumbs up and share it with other good people.
Free Offer!
It's good to share good things with good people. In addition to this, I do have a very specific trade strategy that I want to share with you all the details of my Rubberband Trade Strategy. It's one of my favorite trade setups that I take all the time to this day. It still works, been working for, well, decades actually. And I'm happy to share with you all the rules, the entries, the exits, all the details of it. It's about a 26 minute video that I will give you absolutely free. Just go ahead and click on the link in the top right-hand corner of this video or the link in the description below. As soon as you do that, I will email to you the Rubberband Trade Strategy.
GET MY FREE MARKET ENTRY TIMING INDICATOR
BTW, if you're interested in the indicator that I use personally for very precise entries and exits, I'm happy to share that with you. Just send me an email at support@topdogtrading.com, and I'll show you how to get access to that indicator.
What did you think of this tutorial on Best Moving Average? Enter your answer in the COMMENTS section at the bottom of this page.
PLEASE PAY IT FORWARD BY SHARING THIS VIDEO & ARTICLE ON FACEBOOK OR TWITTER by clicking one of the social media share buttons.
FREE GIFT!
Also, I'm giving away one of my favorite Best Moving Average strategies that work in trading the markets. Just fill out the yellow form at the top of the sidebar on the right. Once you do that, I'll personally send you an email with the first video.
Those interested in Best Moving Average video that works in today's markets also showed an interest in this video:
https://www.topdogtrading.com/best-trading-indicators-day-swing-trading/
Subscribe to my YouTube Channel for notifications when my newest free videos are released by clicking here:
https://www.youtube.com/user/TopDogTrading?sub_confirmation=1