This Aroon Indicator Trading Strategy for Forex, Stocks and e-minis contradicts traditional teachings, and can get you better results.
Was this video/post on the Aroon Indicator Trading Strategy helpful to you? Leave a message in the COMMENTS section at the bottom of this page.
PLEASE "PAY IT FORWARD" BY SHARING THIS VIDEO & ARTICLE ON FACEBOOK OR TWITTER by clicking one of the social media share buttons.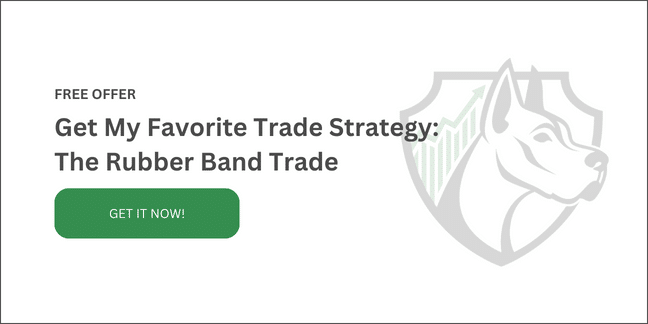 Welcome to this video on the Aroon Indicator Trading Strategy.
I'm gonna explain this for Forex trading, stocks, futures, and really it's universal because it is purely measured on price, in relation to time.
The Aroon Indicator by Definition
The traditional setting for the Aroon indicator is 25 period, so I'm just gonna bring it up here, you can see my settings on this video. Different people use different settings, and you can test different ones, but 25 is pretty traditional. Some use 20 and 80, but most traditionally, it's 30 and 70. Then for the up-and-down, Aroon up, I have mine green, and down I have it red.
I think it's ironic that the word 'Aroon' comes from the Sanskrit word, 'dawn's early light'. It was named that to help people get into an early trend. The irony is, I actually don't find that this indicator regularly gets you into early trends. It's a lagging indicator, but that's okay, because all trend indicators are lagging.
The Aroon Indicator trading strategy is for trend, and trend is really the first thing you always look at. Do we want to be long, or short? Which side of the market do we want to be on? Is it strong, or is it weak? That's what the Aroon Indicator is supposed to do. I don't personally believe it measures strong trends versus weak trends. It does measure whether we are already in an existing trend, so we can do what's called trend following.
Aroon Indicator Trading Strategy
What are the strategies to actually trade this puppy dog? One of the more common strategies taught is a crossover of the two lines. (See video) Right there we get the red line crossing above the green line. Remember, the red line is Aroon down, and if you took that trade, let's see how that worked out. Not so good. So, I don't like those short signals, and I don't ever take them.
Here's another one.
Here we get green crossing above red. I don't like that. Some people will add a little extra qualification, and say yes, but we also want the green line to cross above the 50 line. The mid range of the indicator, because this is a bounded indicator. It's only allowed to go from 0 to 100, but we do get it going above 50, and we get the cross, and it does not go up. That didn't work very well either. So, what is a better signal?
Aaroon Indicator-The Better Signal
The better signal is when you get extreme readings from both indicators. For example, if you look here, green stays above 70, and from here to there red stays below 30. That is a good indication of a trending market, but I need both. It's either both at extremes, Green is above 70, red is below 30. They stay there and that happens about here you see we're golden.
We're looking for extremes on both. The first thing I've got to see is the Aroon up, and the Green Line actually hit 100. Not just above 70, because going above 70 is okay, but I'm using it as my lower line for staying in an uptrend. As Aroon stays up here, I need it to hit a hundred. I want a real strong indication, and then I want it to stay there. Seventy is not my entry, it's more of my level of saying, okay, I don't want it to go below that, and then I'd love to see this hit zero. The more extreme in both, the better.
Remember, the Aroon Indicator is a lagging indicator, so it actually consolidates all the way through. It's a little late to the party, especially if you use 25 periods. A lot of people say, "I'll just take this down and use it less than 25 period, so we get faster signals." You will get faster signals and you'll also get noisier signals. That sounds great in theory, but in practice, not so much. You got to be a little forgiving on these lines, they're not exact.
Wrapping Up!
You've heard, "The trend is your friend until the end", so what that really means is we want to get early into a new trend. One thing people look for is to hit a hundred, come back down, and then go back up, and hit a hundred a second time. Remember we're going short, so some people get confused because it looks upside down. The red lines at the high, but it's the red line Aroon down, so we want to go short. That's a timely entry.
This is part one, of a two-part series. In the next video I'm going to give you a simple scan, because a lot of you really like getting suggested scans. I have a scanning parameter for the Aroon indicator Trading Strategy, and will give it to you absolutely free on the next YouTube video. If you're catching this as soon as I publish it, then it'll be about a week later. I'll come back and put the link to part two in this post.
If you liked the video, and found this helpful, please give a nice thumbs up and leave comments in the comment section below. In fact, I really cherish your comments. If you have any suggestions for future videos, I'd be very happy to take those into account. I actually make a list of all the suggestions that come in, and that helps me help you. One of the best things you can do is pay it forward.
Free Offer!
It's good to share good things with good people. I have a very specific trade strategy that I want to share with you all the details of my Rubberband Trade Strategy. It's one of my favorite trade setups that I take all the time to this day. It still works, been working for decades. And I'm happy to share with you all the rules, the entries, the exits, all the details of it.
It's about a 26 minute video that I will give you absolutely free. Just go ahead and click on the link in the top right-hand corner of this video or the link in the description below. As soon as you do that, I will email to you the Rubberband Trade Strategy.
What did you think of this tutorial on the Aroon Indicator? Enter your answer in the COMMENTS section at the bottom of this page.
PLEASE PAY IT FORWARD BY SHARING THIS VIDEO & ARTICLE ON FACEBOOK OR TWITTER by clicking one of the social media share buttons.
FREE GIFT!
Also, I'm giving away one of my favorite Best Moving Average strategies that work in trading the markets. Just fill out the yellow form at the top of the sidebar on the right. Once you do that, I'll personally send you an email with the first video.
Those interested in Best Moving Average video that works in today's markets also showed an interest in this video:
https://www.topdogtrading.com/best-trading-indicators-day-swing-trading/
Subscribe to my YouTube Channel for notifications when my newest free videos are released by clicking here:
https://www.youtube.com/user/TopDogTrading?sub_confirmation=1