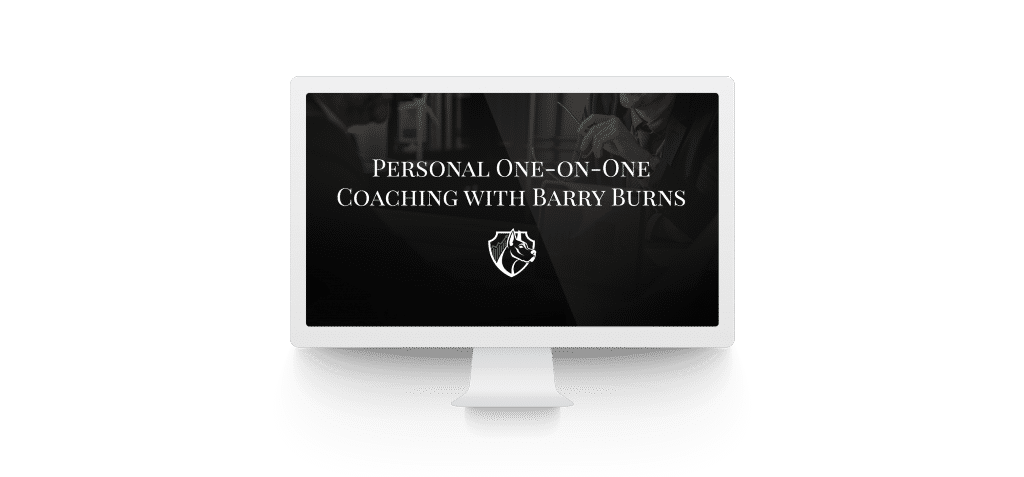 From the desk of Barry Burns
Los Angeles, CA
Dear Trading Student,
I started my trading educational services many years ago by offering to coach students 1-on-1 in my home office.
The personal trading coaching was $5,000/month, but the results were worth it. Students were thrilled, but it was extremely time intensive on my part, so I stopped offering the service and instead decided to create the online courses.
Putting the courses online allowed me to dramatically lower the price of my course to $295, but obviously students didn't get the benefit of my personal mentoring to help them with any SPECIFIC issues they may have.
For a couple years now I've had requests piling up asking me to offer personal one-on-one coaching again.
I have to admit, there's no replacement for having a personal trading coach to give you direct, personal attention and help you with the unique challenges that YOU are having as an individual.
I've had a couple personal trading coaches when I was coming up through the ranks, and the difference it made in my trading was worth WAY MORE than the investment.
My schedule has opened up a bit, so I'm bringing it back … but on a very limited basis (and at a lower price).
This is an exclusive opportunity for you to work with me one-on-one. We will work TOGETHER to help you get the trading results you want.
You and I will meet weekly (via GoToMeeting) where we'll be able to talk with each other, look at charts together and examine YOUR SPECIFIC TRADING CHALLENGES. We'll work together to overcome them.
I'll also give you access to any of my courses that I think will benefit you (depending on your needs), at NO EXTRA CHARGE.
You're getting my personal attention as I CUSTOMIZE a trading strategy just for you.
Sound interesting?
To learn more about this program, simply CLICK HERE for all the details.

Warmly,
Barry Burns
Top Dog Trading