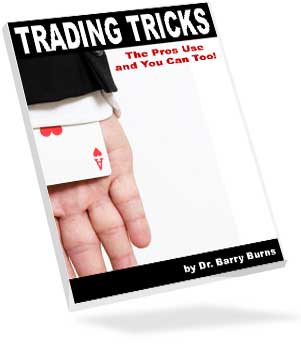 The pros trade differently. That's why they're pros!
Everyone needs an "edge" in trading. Without it, you're dead meat.
Have you ever felt that sometimes it's uncanny how the market does exactly the opposite of what it's "supposed" to?
That's not a coincidence.
Professional traders make a living out of breaking the rules everyone "knows" to be true about trading.
I remember the first time I went to the CME (Chicago Mercantile Exchange). I hired a floor trader to work with me for 10 days.
I had already been trading for years before I met with him, but the very first day we started talking I felt like we were speaking different languages!
There was some foreshadowing of this before I went. He required me read a small library of books before I flew to Chicago. I already read over 100 books on trading … and I thought I had read all of the important ones. But he had me read books I never heard of, about techniques I never heard of!
One week into the training, my head was spinning. I was in a different world. He entered the market with completely different techniques than I ever dreamed of. And he got out of the market when I would normally be getting in!
His style was TOTALLY foreign to me.
The things I saw him do in his trading (we traded together the entire time) looked completely STUPID in my opinion! I mean really outrageous. He broke all the rules in every book I ever read.
… and he raked in piles of cash!
I had to struggle to literally "change my mind" because I thought I was pretty smart. But he was the #1 trader in his firm, making millions of dollars. So I decided to struggle through the complete paradigm shift.
And I'm glad I did. My trading has never been the same.
Recently I wrote a Special Report that reveals, for the first time to many, 4 distinct tricks the pros use to get an edge over the retail trader day after day.
The pros also use technical analysis techniques that are "invisible" to the amateurs.
Now you can see them for yourself and learn how to make them visible on your own charts, by getting "Trading Tricks."
The feedback I've received so far has been great. Check it out and I'm sure you'll have an "a-ha" experience!