TRADING TRICKS
OF THE PROS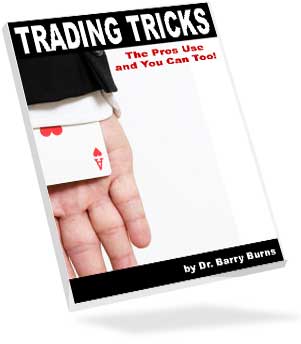 The pros trade differently. That's why they're pros!
Everyone needs an "edge" in trading. Without it, you're dead meat.
This Special Report reveals, for the first time to many, 4 distinct tricks the pros use to get an edge over the retail trader day after day.
Have you ever felt that sometimes it's uncanny how the market does exactly the opposite of what it's "supposed" to?
That's not a coincidence. Professional traders make a living out of breaking the rules everyone "knows" to be true about trading.
The pros also use technical analysis techniques that are "invisible" to the amateurs.
Now you can see them for yourself and learn how to make them visible on your own charts!
$9
HOW TO TAKE OUT OTHER PEOPLE'S STOPS FOR FUN AND PROFIT

Have you ever felt that the market "knows" exactly where your stops are?
Have you been frustrated by the market taking out your stop, and then turning right around and moving in the direction of your original trade?
Have you ever felt that the market was intentionally gunning your stops?
The bad news is ... They are! Stop running is a common technique employed by Floor Traders.
In this Special Report, you'll discover:
How they know where your stops are.
The best (really ONLY) place to put your stops.
How you can play their game and make money by taking out other people's stops.
What to do when your stops are taken out, and then the market continues in the direction you originally traded.
$9
HOW TO AVOID CHOPPY MARKETS AND GET IN ON MAJOR TRENDS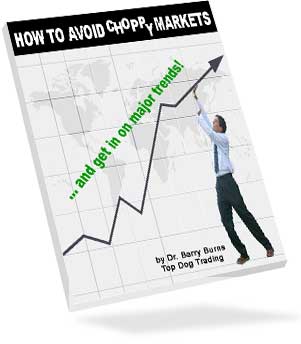 Many traders are able to make some money when their setups occur, but then give their profits back when the market goes into consolidation.
If only you could know when the market was going to be choppy; That one piece of information could possibly turn you into a profitable trader!
Choppy markets chop up your profits. Sometimes learning when NOT to trade is just as important as knowing when to trade.
Knowing your trading signals and when to trade is your "offense." This Special Report is for your "defense." To win at the trading game you need both a good offense and a good defense.
However this Special Report also teaches you how to anticipate the end of choppy conditions and the beginning of new trends ... therefore getting you early into new mega trends!
$9
SPECIAL REPORT BUNDLE
Take Advantage of it NOW and get all 3 Special Reports listed above for the price of 2:
Only $18
Boy, this stuff really works! I'm really grateful that you're willing to teach us. I hope that you will continue long enough so that those of us who are new to your approach can reach "advanced trader" status.
- Peter H.
"Dear Barry,
I sent a review and want to personally thank you for helping another lost trader. My struggle is no different then most. I really enjoy and have put to the test your method and love it! You are a wonderful teacher. I will gladly tell other about my improvement and belief in your training.
Sincerely,"
Rick V.
"I have followed Barry Burns methodology for 3 years... you can never get enough of a good thing."
. Richard H.
"... this is the best material on trading I have come across and like your approach. I too have spent lots of money on seminars and books and some other courses and highly recommend your material for both the novice and the experienced trader. Kind regards,"
- Theo K.
"Very logical and methodical. Easy to understand. Best instruction ever - regardless of cost!"
- Carol E.
"Just a quick note to thank you so much for the mentoring over the past few weeks. I have spent over $30K on books and courses in the last 2 years and your training is by far the best I have taken.
My trading is now more focused and precise and I have clear and well defined rules which allow me to react more appropriately to what I see on the chart. For the first time I really feel that I am trading with purpose and direction and have a better understanding of price action.
... Just one thing though and I hope you don't mind me feeding this back: I don't think you are charging enough - Seriously! I have paid and would expect to pay this kind of money for simple e-books and mini trading strategies which in my experience have not worked ... I would have thought 2-3 times what you are currently charging would not be unrealistic for new customers and would still provide excellent value ..."
- Steve P., UK
Testimonials appearing on this website may not be representative of other clients or customers and is not a guarantee of future performance or success