ARTICLES 2
When you love too much.
Overtrading ... The Kiss of Death.
The #1 problem most traders face? I haven't taken a formal survey (feel free to take the poll in this lens and maybe we'll get a more official answer), but I would guess it is:
Over trading.
We don't really trade for the money. Oh sure, the money is great, and we do want it, and it is thrilling.
But there are many ways to make money. We choose to do it through trading because we LOVE to trade.
That's good.
And bad.
It's wonderful to pursue your passion. But when it comes to trading, too much of a good thing leads to failure.
Learn from the Cheetah.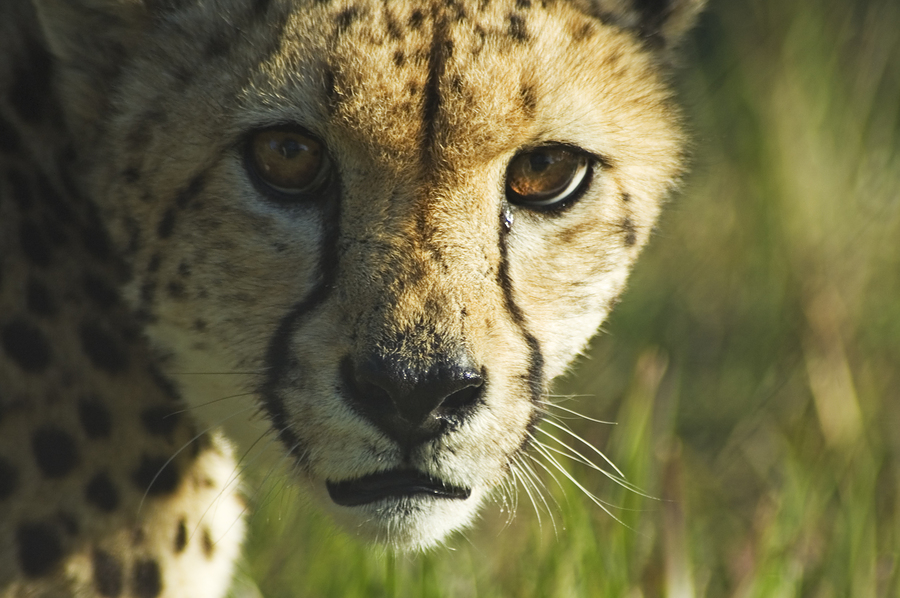 The Cheetah waits and waits and waits in the tall grass. It doesn't pursue the prey, but rather it just sits silently and perfectly still waiting for its prey to come to it.
It can wait for looooong periods of time.
Perfectly still.
Perfectly quiet.
Boring.
And it doesn't attack the strongest prey. It's not interested in a fair fight. It wants the weakest one that's limping across the field.
Because the Cheetah isn't in it for sport. It's in it for survival.
It's the same with us as traders. If you want to truly make money at trading, it isn't going to be as action packed as you first imagined.
The best trades come by waiting for the weakest points in the market ... the times that don't happen very often, but when they do occur, the odds are clearly stacked in your favor. The rest of the time you just wait and wait and wait ... coiled like a cat ready to pounce.
Dr. Van Tharp once said: "Good trading is boring."
So how do you deal with the need for "action?"
You seriously and deliberately need to structure it into your life in another way, so you aren't even tempted to get that need filled at the trading screen.
When I first heard someone say you can't treat trading like a video game, I didn't believe them.
Tens of thousands of dollars (lost) later, I decided they were right!
Like most traders, I had a need for action, so I deliberately went out and bought an XBox!
That worked pretty well. So now I upgraded to a PS3!
I took it pretty literally. You may not like video games, but if you have a need for "action," then you'll do yourself the biggest favor by getting a hobby that gives you all the action you can handle so when it comes to trading, that need has already been satisfied and you patiently wait for the perfect time ... and let the amateurs have all the other trades.
- Dr. Barry Burns
http://www.topdogtrading.com
barry@topdogtrading.com
(c) 2007
---
ACCEPT THE GIFT OF THIS TRADING SECRET
... and Learn How To Trade with Complete Confidence
Dear Trader,
You can get, absolutely free, one of my favorite trading setups: "The Rubber Band Trade."
You'll get it on day 4 of my free 5-Day Trading Course:
"Make Money by Breaking Every Trading Rule
You Ever Learned!"
Have you ever felt it's uncanny how the market does exactly the opposite of what it's "supposed to do?" That's not surprising. You probably already know that trading is very risky and most people don't make money
While that's true, and I can't guarantee your success, I'm happy to share with you this trade setup that's working for me. And I'll let you "try before you buy!"
Here's what you'll get in my Free 5-Day Video Course:
Video 1: The Trend is Your Enemy! An up trend is NOT measured by higher highs and higher lows. In this video you'll see why amateurs often have their accounts sucked dry by trend trading ... and you'll get the trend indicator that works!
14 minutes and 33 seconds.
Video 2: How Pros Trade Against Amateurs with Double Tops and Double Bottoms ... and how you can trade with the pros. 17 minutes and 20 seconds.
Video 3: The Simple Secret To Make Head and Shoulders Patterns work and when they don't (don't dare trade head-and-shoulders without this!). 17 minutes and 42 seconds.
Video 4: YOU GET THE RULES FOR MY FAVORITE TRADE SETUP (The "Rubber Band Trade") 16 minutes and 33 seconds.
Video 5: My "Five Energies" Trading System. Simple scorecard method - count how many "energies" align out of 5 to determine the probability of success.
23 minutes and 22 seconds.
This course also comes with chart illustrations and ONLINE INTERACTIVE QUIZZES at the end of each video so you can make sure you master each lesson.
TO RECEIVE THE RULES FOR MY FAVORITE SETUP: "THE RUBBER BAND TRADE," your free subscription to my newsletter and the 5-Day Course ...
Simply fill out the short, easy form below. You'll instantly receive an email with the link to your first video lesson TODAY!
I respect your privacy and will not share your information with anyone else. It will be used to contact you about more free videos and articles, as well as offers on products for purchase. You may opt out at any time by contacting me at: barry@TopDogTrading.com.

---
After you request the 5-Day Video Mini-Course, check out my free Trading Blog.
---
ASK BARRY!
What's Your Biggest Question
About Trading?
Complete the " ASK BARRY " form and receive a
prompt personal response!


"You are absolutely the BEST teacher I have found in my long (over 10 years) search to learn a successful approach to trading the futures.
The people I have referred to you have all had very favorable comments about you and your approach.

God Bless,"

- Dave B.
"... just what I was looking for ... It's as good as it gets. The best yet. I have not had a course that would go so deep into details. "
- Garen M.
Hi Barry,
Just watched video number four. Say are you married? Cause I think I'm in love :)
Best regards,
Gail E.
"Observing every presentation delivered at WorldWideTraders for seven years, there's no trader more qualified to know what others need to know to excel in the trading business than Barry. I know because I have attended more trading courses than most traders. .. Barry is very effective at successfully teaching his methods to traders to be smoothly applied for more consistent trading results with conviction and confidence. That's what every trader needs."
- Richard R.
"Barry is the best person I've ever had teach me any market method"
- Jason A.
"WOW - what a newsletter! All I can say is Foundations Courses 1 & 2 are the bread and butter; BUT your video newsletter is the "icing on the cake" and anyone not using it is really missing out on both accelerating their learning curve and improving their trading skills.
Thanks again,
Dave"
"Hi Barry, Wanted to thank you again for your mentorship. You are a great trader and an excellent teacher. Your knowledge of the markets is humbling. Thank you for sharing that knowledge with me."
- Aya E.